Locals Guide to Summer Events in Mammoth Lakes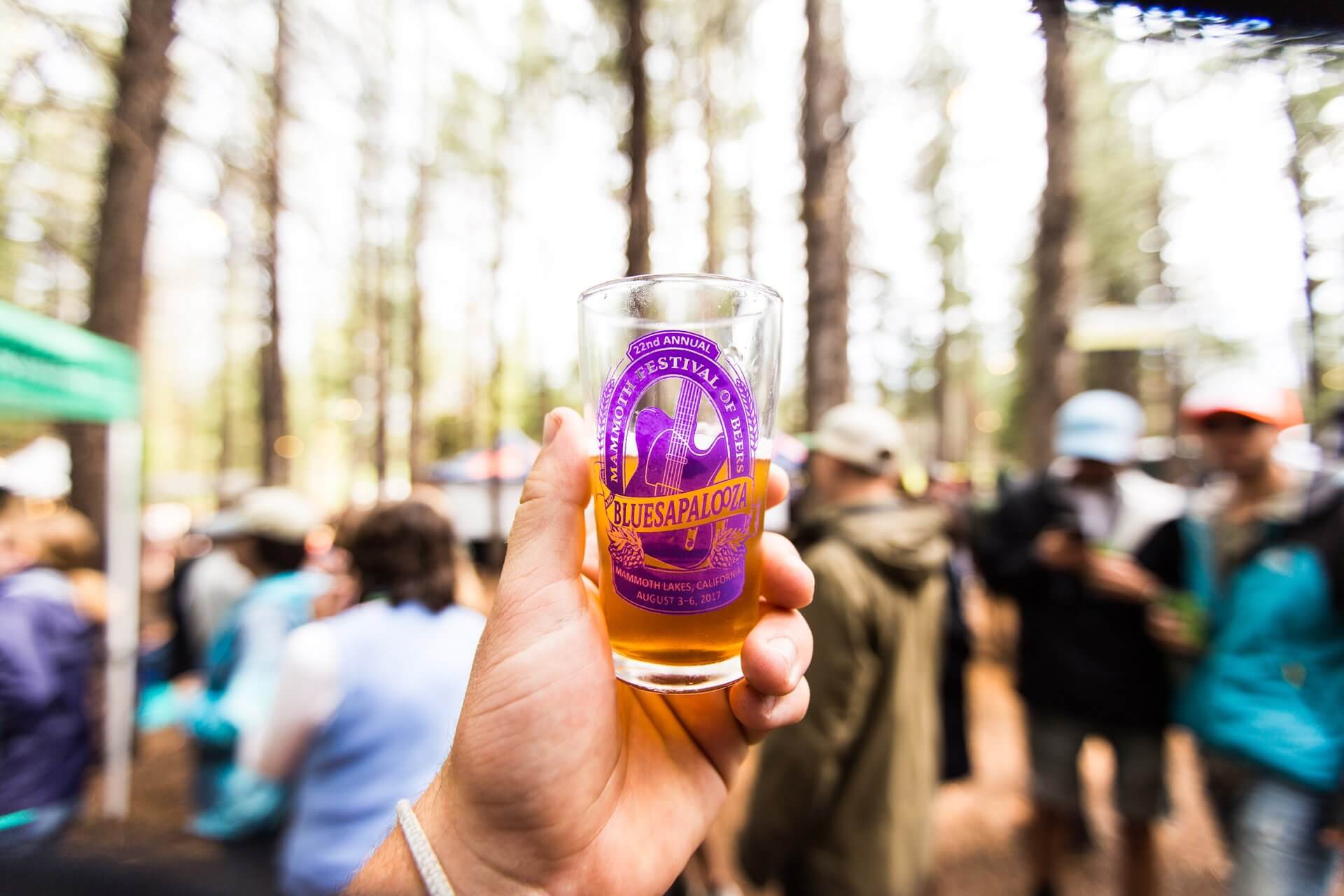 Thinking of visiting Mammoth Lakes in the summer? We don't blame you. Our picturesque little mountain town in the Eastern Sierra isn't just famous for its ski resorts and hot springs; it also hosts some awesome summer events and festivals.
Whether you are a regular summer visitor looking for new experiences or a first-timer who fell in love with the area in winter, you'll find plenty of live entertainment, festivals, and events throughout the summer months.
From the thrilling Mammoth Motocross event that kicks off the season to the musical extravaganza at Blusapalooza, there's something for everyone, from music lovers to foodies, to nature enthusiasts and everyone in between.
Beyond main headlining events, visitors will find additional off-the-beaten-path events and adventurers around every corner during summer.
We've included some essential travel tips tailored specifically for those visiting Mammoth Lakes for the first time in summer. Get ready for an unforgettable summer vacay!!
Mammoth Motocross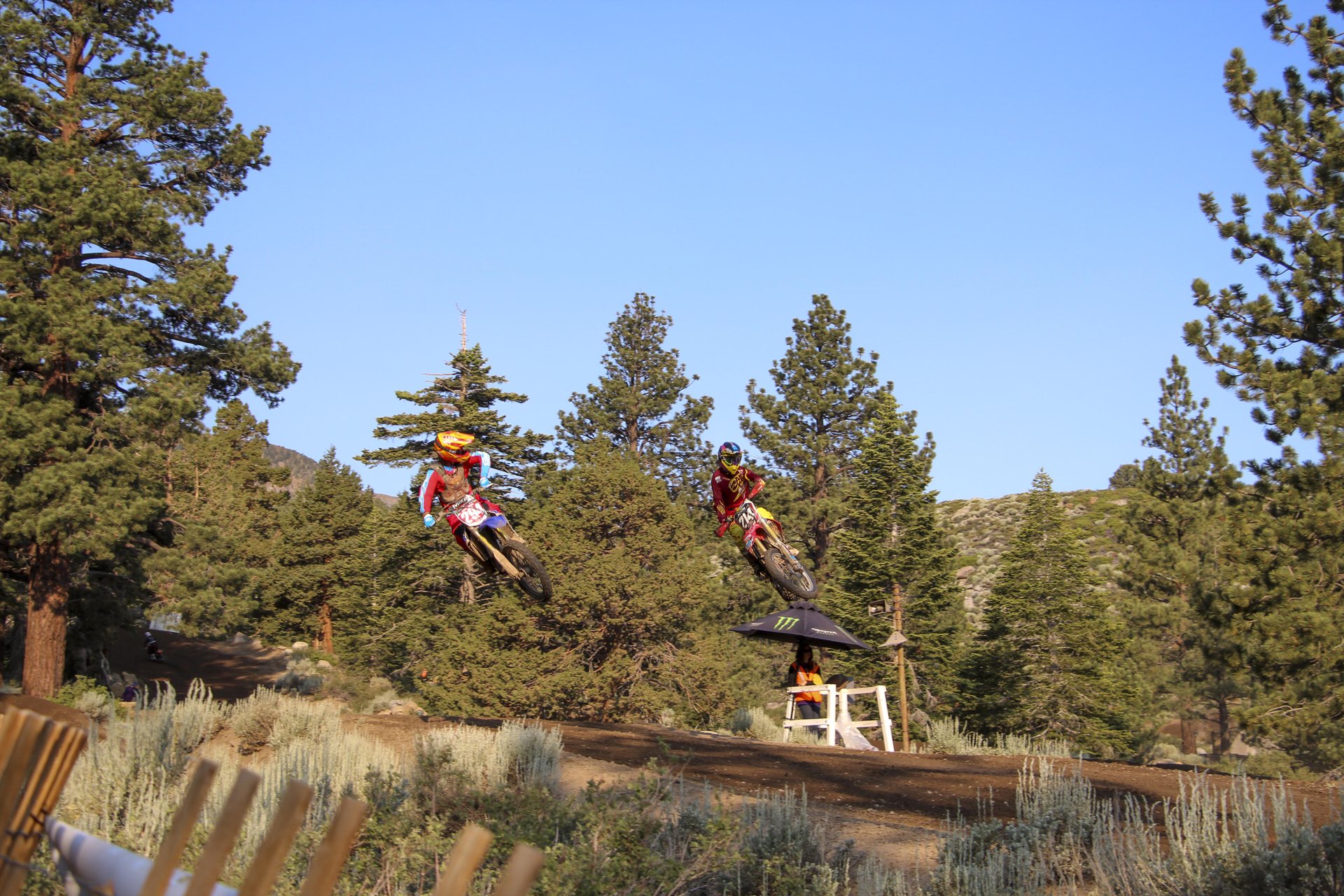 This adrenaline-filled event takes place right around the corner from Sierra Meadows Ranch, with Staging areas right at the Borrow Pit, with the bench of the Sherwins as a majestic backdrop.
Mammoth Motocross was started in 1968 by the late founder of Mammoth Mountain, Dave McCoy, who was a motocross enthusiast himself. It continues to be the oldest, continuously running motocross in the US.
The competition features some of the most challenging terrains, making it an exciting spectacle for spectators and a tough race for participants. In fact, the event draws motocross fanatics from near and far, including riders such as Carey Hart, who comes up with his family to enjoy the event. It's not uncommon to see Carey and his wife, Pink, and their kiddos shopping for groceries at Vons.
2023 Update: Historically, Summer events in Mammoth Lakes have historically kicked off with the Mammoth Motocross. However, in 2023, the event was moved to September to accommodate the record snowpack. It's best to check Mammoth Mountain's website for details and updates each year before planning your trip.

"Experience the thrill of Mammoth Motocross this summer. Book a cozy tiny-home unit at Sierra Meadows Ranch and enjoy breathtaking views after an adrenaline-filled day at the races. #MammothMotocross #SummerEvents #SierraMeadowsRanch"

Spectator Tips
Dress Appropriately: The weather can be unpredictable, so dress in layers and don't forget your sunblock. It can also get dusty, so you may want to wear close-toed shoes and have a bandana or mask to cover your nose and face if the wind changes direction and blows dust around.
Pack Snacks: There will be food vendors at the venue, but packing your own snacks is always a good idea. And don't forget plenty of water or other preferred methods of hydration. Between the altitude and warm weather, it's easy to get dehydrated and not realize it until it's too late.
Come Early: Get there early to secure prime viewing spots. The only available viewing area is near the large staging area, and prime spots can get taken quickly.
Leave Fido Home: Dogs are not allowed on the track, so it's best to leave the furbabies behind for this one.
There's no camping at the track: But if you want to be close to the action, book one of our cozy tiny home units at Sierra Meadows Ranch, which is conveniently located close to many major summer events, including Mammoth Motocross. Enjoy comfortable accommodations with breathtaking views right outside your window after an adrenaline-filled day at the races.
Mammoth Festival of Beers and Blusapalooza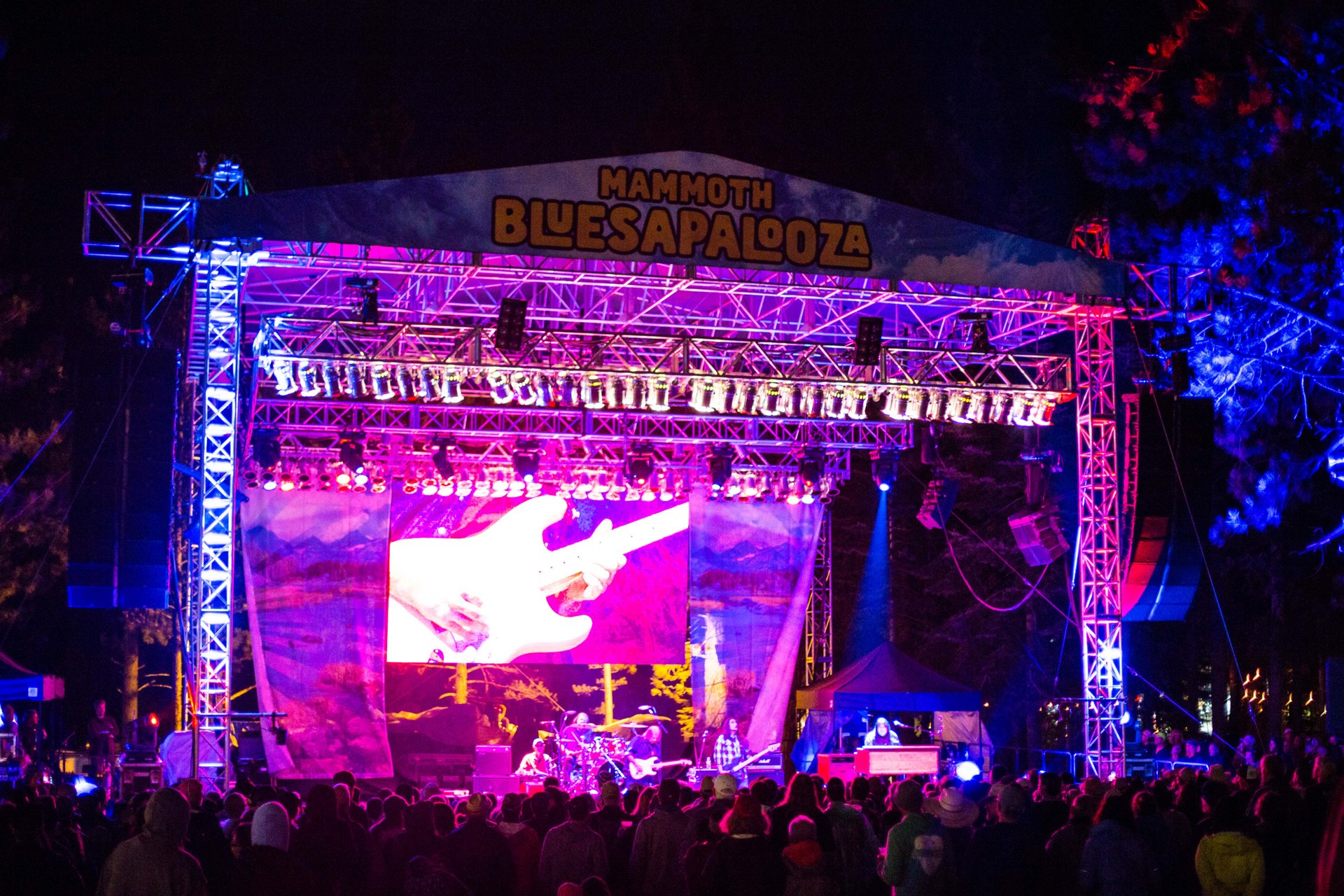 If you're a fan of blues music and craft beer, then Blusapalooza is the summer event you don't want to miss. This annual festival combines soulful tunes with an expansive beer-tasting festival nestled in a lovely wooded grove just across town. While the beer tasting is on Saturday, the music lineup begins Thursday and continues through Sunday. So put in for PTO and get ready for an unforgettable long weekend.
The Music Lineup
Each year Bluesapalooza features top performers from all over the nation and from every decade. In past years legendary favorites like The Taj Mahal cult classics like Keb Mo, and yearly regulars like Trombone Shorty and Orleans Avenue. Blues aficionados will find a robust lineup of performers that includes everything from traditional blues sounds to more contemporary styles. It's a musical feast that is sure to keep your feet tapping all day long.
Craft Beer Experience
In addition to the stellar music lineup, Blusapalooza also hosts one of California's most extensive craft beer festivals. With over 70 breweries participating each year, attendees can sample some of the finest beers from around the state and beyond while enjoying great live performances.
Tickets & Accommodation Tickets are available online and include options for single-day or full-weekend passes. If you're planning on attending this fantastic event at Mammoth Lakes this summer, consider staying at our charming tiny-home units here at Sierra Meadows Ranch. Our comfortable accommodations provide easy access to both Blusapalooza and other exciting events happening in town during your stay.
Where to Get A Bite to Eat
There are plenty of fantastic food vendors at the event, and it's not just Carni food. Often, local chefs and restaurants offer BBQ, Burgers, and even healthy options. You'll find everything from comfort food like burgers and (sometimes) pizzas to upscale restaurants offering gourmet meals from top local chefs. Looking to take a break and head into town? The Eatery is just up the road from the festival and has some of the best gastro-pub food with some of the most stunning views in town. Outside food, beverages, and alcohol are not allowed.
"Get ready to see some of the best blues performers in the world and taste some of the finest craft beers at Blusapalooza in Mammoth Lakes this summer. Book your stay at SMR now. #bluesmusic #craftbeer #summerfun"
Tips For Attending Bluesapalooza
Take the Trolley: Parking is limited at the event, and ADA parking is available on a first-come-first-served basis. Attendees are encouraged to walk or take a shuttle. You can also call a Taxi. Uber and Lyft are not widely available in Mammoth Lakes.
BYOC (Bring Your Own Chair) Like many modern outdoor festivals, seating is not provided. Bring your favorite lawn chair, cozy blankets, and extra layers. Afternoon showers are not uncommon, so bring a raincoat or poncho. See the https://mammothbluesbrewsfest.com/guidelines-faq/ for more FAQs and what you can and can't bring inside the venue.
Footwear. While strappy sandals are pretty with summer dresses and flip flops are comfy, the festival grounds are covered with saw dust and can make feet grimy. If you don't mind this, no problem. If you prefer to keep your feet clean, opt for close-toe shoes.
No Pets Only service animals are allowed at the Mammoth Festival of Beers and Bluesapalooza.
Mammoth Rocks & Taste of the Sierra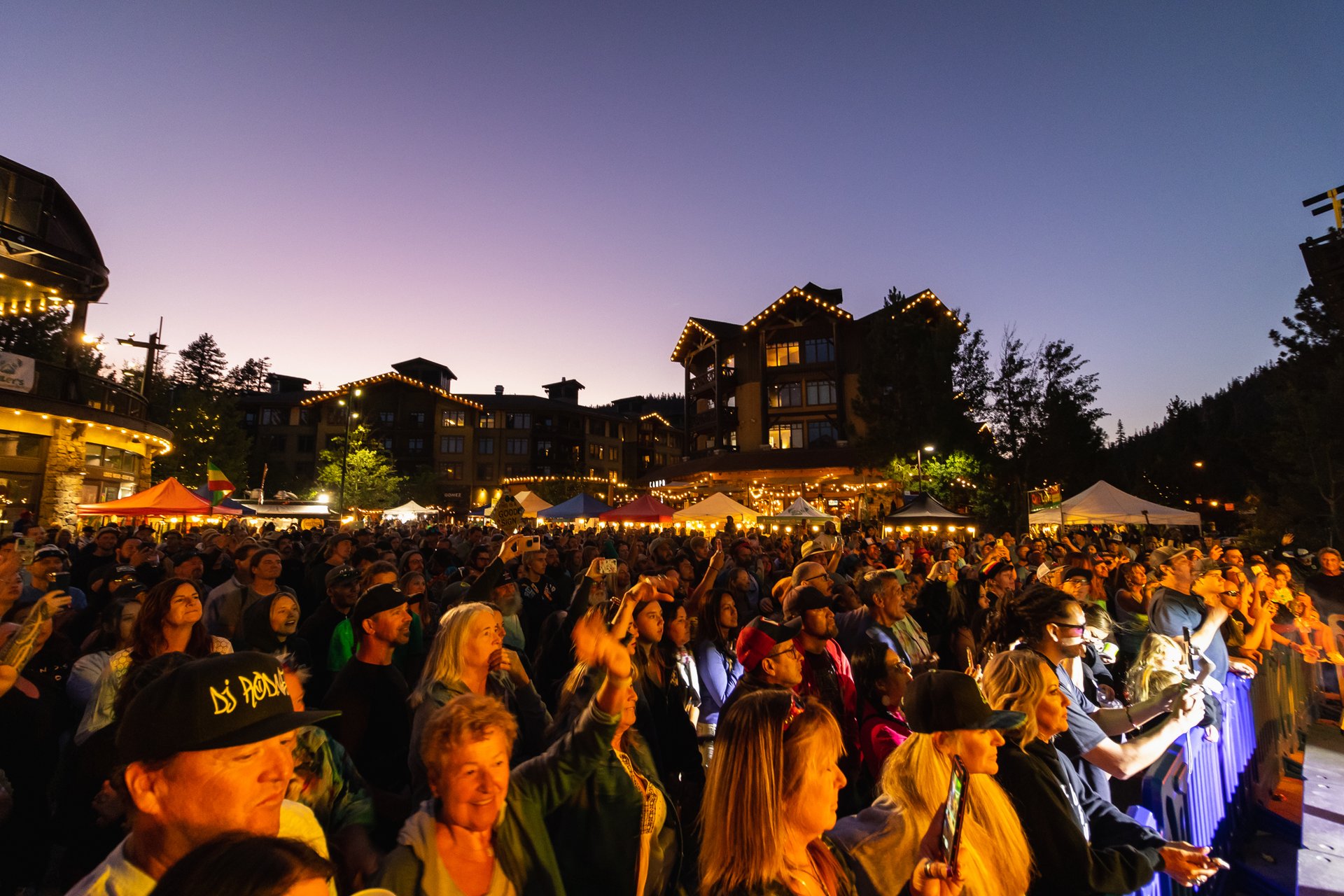 The annual Mammoth Rocks & Taste of the Sierra offers a blend of good music and great food. This two-day event in The Village offers a unique blend of musical performances and culinary delights.
The festival showcases some of Mammoth Lakes' finest eateries, offering attendees a chance to sample an array of delicious dishes from the menus of popular local restaurants.
In addition to the fantastic food, music lovers are in for a treat too. Enjoy free live, classic rock performances from the 60s through the 90s from the best tribute bands on the west coast. Tickets for a full bar are available, and food can be purchased separately from each vendor.
"Experience the ultimate blend of food and music at Mammoth Rocks & Taste of the Sierra festival this summer. Don't miss out on a weekend filled with delicious dishes and live performances in stunning mountain views. #MammothLakes #SummerEvents "
Tips For Attending Mammoth Rocks & Taste Of The Sierra
Parking: There is self-serve paid parking across from the Village, but arrive early as spaces fill up quickly. Better yet, hop on the eRed Line open-air trolley, which departs from
Dress for Success: Dress comfortably and layer. Even though it's summertime, nights can be chilly here. Opt for light clothing during the day and bring a light jacket or shawl for the evening. And don't forget your hat and sunscreen. The high-altitude sun can be strong in the middle of summer.
Come and Go as You Wish: Because this is a free festival, some attendees stay all day, while others evening entertainment after a day of adventure. The choice is yours.
Pets: Pets are generally welcome in the Village, provided they are kept on a leash.
Tips For Attending Mammoth Rocks & Taste Of The Sierra
Parking: There is self-serve paid parking across from the Village, but arrive early as spaces fill up quickly. Better yet, hop on the eRed Line open-air trolley, which departs from
Layer: Dress comfortably and layer. Even though it's summertime, nights can be chilly here. Opt for light clothing during the day and bring a light jacket or shawl for the evening. And don't forget your hat and sunscreen. The high-altitude sun can be strong in the middle of summer.
Come and Go as You Wish: Because this is a free festival, some attendees stay all day, while others evening entertainment after a day of adventure. The choice is yours.
Pets: Pets are generally welcome in the Village, provided they are kept on a leash.
Mammoth Wine Weekend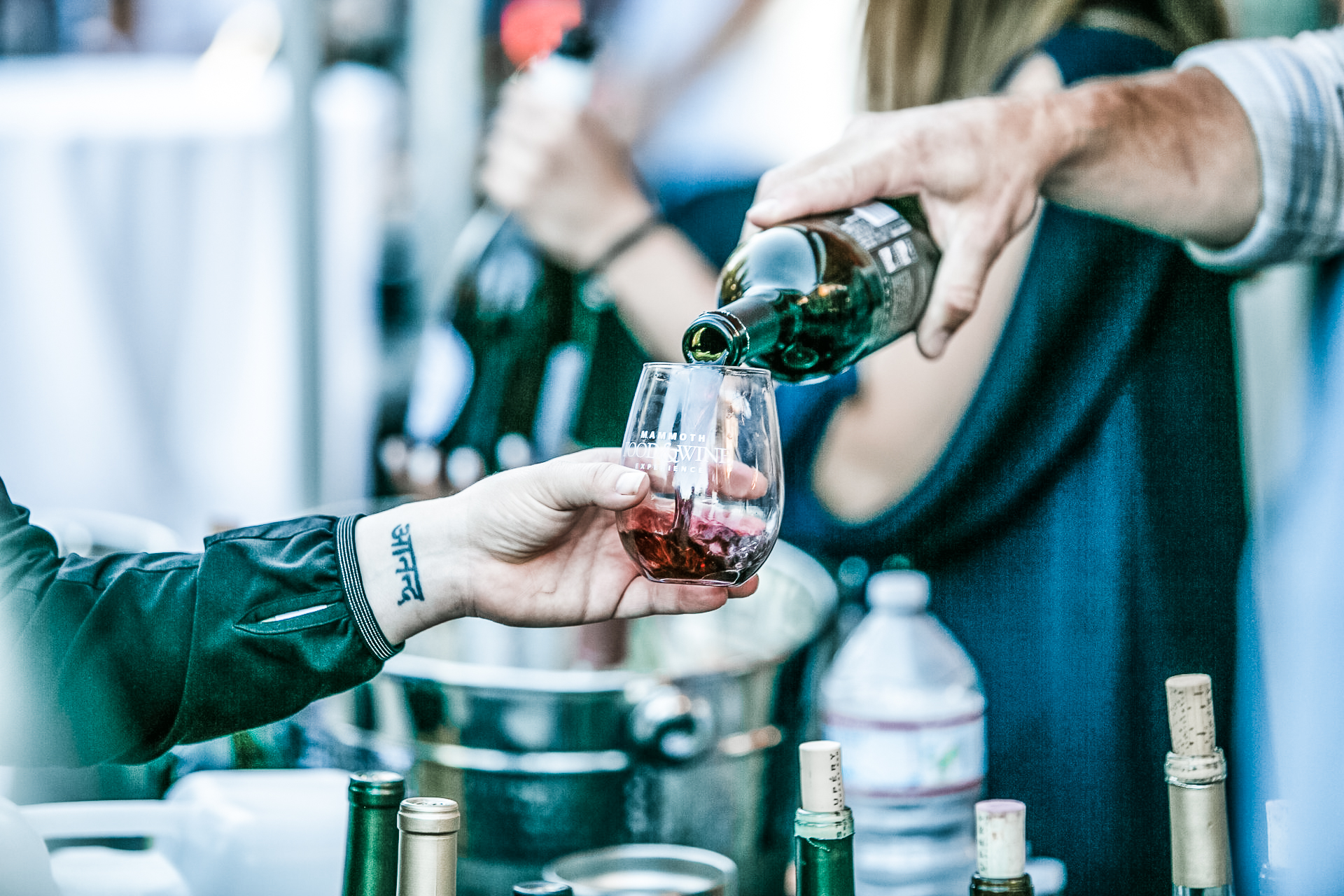 A favorite annual event among locals and visitors alike. Mammoth Wine Weekend marries the rustic charm of the mountains with the refined allure of world-class wines, promising an unforgettable long weekend of savoring and toasting. Enjoy exclusive wine tastings and education. Winemaker Dinners, where local chefs lovingly curate menus that are perfectly paired with exquisite wines. The tasting continues with the Wine Walk in The Village, where over 30 esteemed wineries showcase their finest vintages. Around the town, delight in a plethora of tastings hosted by the Mammoth Mountain Community Foundation, each offering unique experiences to satiate the curious palate. Wine enthusiasts and culinary explorers, mark your calendars today and prepare for an unforgettable journey into food and wine culture.
Tips for Savoring Every Moment of Mammoth Wine Weekend
Hydrate & Nourish Yourself: While the focus is on wine, don't forget to stay hydrated and eat properly throughout the day. The altitude of Mammoth Lakes can amplify the effects of alcohol, so drinking water in between tastings is crucial. The Winemaker Dinners offer an excellent opportunity to balance your wine intake with delicious food.
Pace Yourself: With over 30 wineries participating in the Wine Walk alone, it's tempting to try as many as possible. However, remember to pace yourself. Think of a primary experience you'd like to have. Do you want to learn more about pairing food and wine like an expert? Perhaps you're interested in branching out of your comfort zone by learning more about and sampling a specific varietal. Having a primary goal lets you focus on quality rather than quantity so you can get the most out of your experience.
Book early: Book accommodations within Mammoth Lakes to fully immerse yourself in the weekend's events and to safely enjoy the wine without worrying about travel. Book early, as accommodations fill up fast during this popular event.
Explore Beyond Food and Wine: While the focus of the weekend is wine, don't miss the opportunity to explore the beautiful surroundings of Mammoth Lakes. Hiking, mountain biking, and sightseeing activities can provide a refreshing balance to your weekend.
Other Fun Summer Events in Mammoth Lakes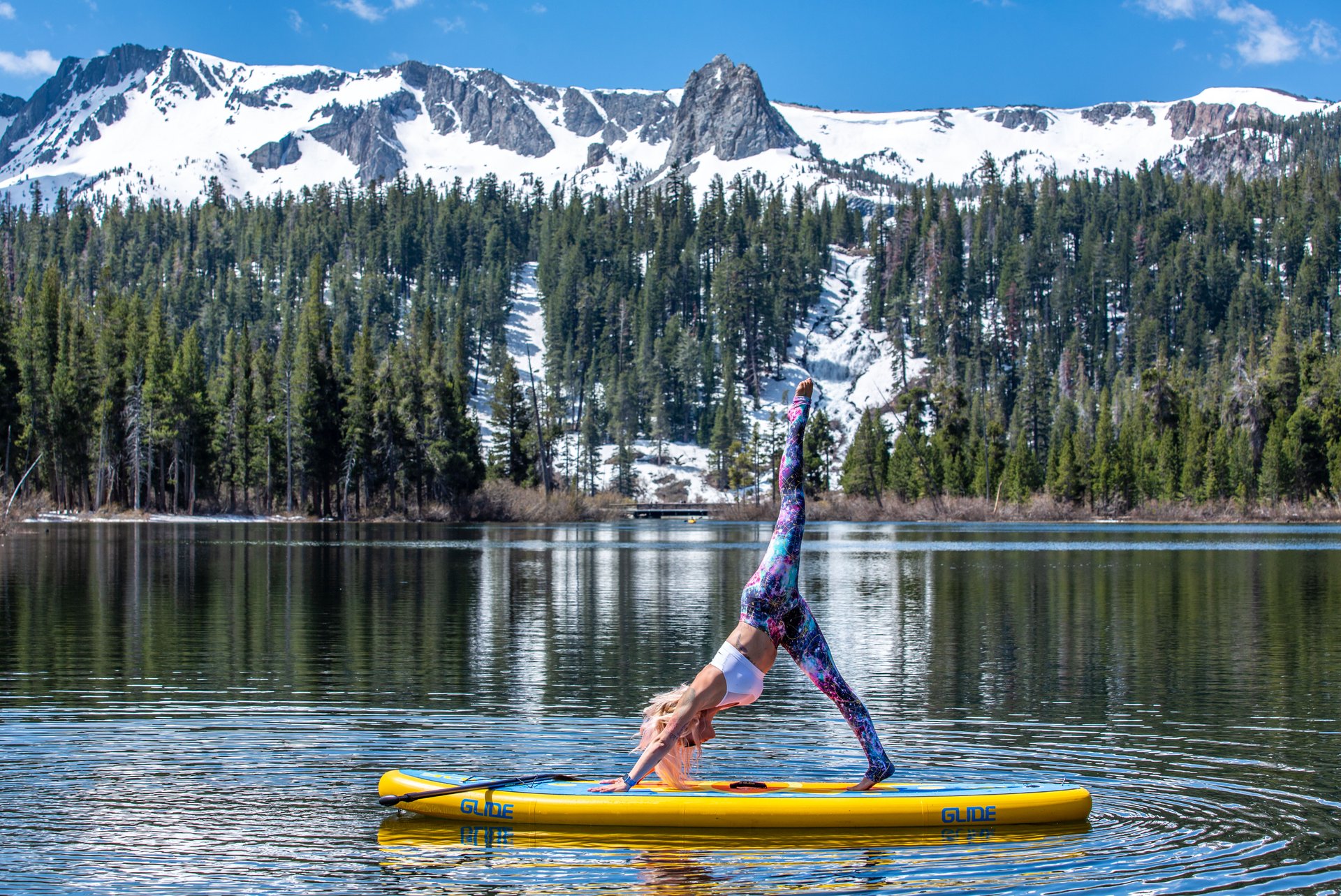 If you've been-there-done-that and want a unique experience, Mammoth Lakes offers various smaller events that delight locals and offer visitors new ways to experience the area.
Mammoth Yoga Festival
Experience the transformative power of yoga in the majestic setting of Mammoth Lakes at the Mammoth Yoga Festival. Spanning four energizing days, the festival offers an inclusive haven for practitioners of every age, ability, and experience level. Whether you're a curious beginner taking your first step on the yoga journey or an established practitioner seeking to deepen your practice, MYF creates a nurturing environment for all.
Kids Fishing Festival
For families visiting during summer, don't miss out on the Kids Fishing Festival. This event is perfect for young anglers who want to learn more about fishing while having fun. Plus, it's a great way to get the kids outside and away from their screens.
Mammoth Margarita Festival
The annual Mammoth Margarita Festival offers a chance to sample some delicious margaritas made with premium tequilas. Relax and de-stress after a day of hiking or biking. Like Mammoth Rocks, The Mammoth Margarita Festival hosts free live music and local food vendors. Tequila aficionados can purchase tasting tickets to sample premium tequilas and sip delicious margaritas.
Mammoth Reggae Festival
Mammoth Reggae Festival brings Caribbean vibes to this mountain town, so get ready to jam to some reggae beats at the Mammoth Reggae Festival. This yearly gathering offers a fantastic opportunity to experience the amazing reggae sounds of both local and global performers, all while indulging in scrumptious food and feeling good vibes.
Shakespeare Festival in the Woods
Experience the timeless tradition of alfresco Shakespearean plays amidst the breathtaking vistas of Mammoth Lakes. These productions, brought to life by the dedicated Sierra Classic Theatre, have consistently charmed audiences with their innovative reinterpretations of the Bard's classics. Pack your picnic, gather your loved ones, and come enjoy an unforgettable evening of theatre under the starry Mammoth Lakes sky.
Bird Watching Tours, Wildflower Walks, and Programs that Celebrate Nature
Looking for peaceful, educational, and awe-inspiring events that are a bit off the beaten path? Nature lovers can join bird-watching tours or participate in guided wildflower walks offered by local nature organizations. Appreciating the local wildlife and taking in the stunning views of nature are just some of the benefits of joining bird-watching tours or wildflower walks.
The Eastern Sierra Interpretive Center (ESIA) often hosts educational programs such as astronomy nights and geology talks at the Amphitheater near the visitor center in Mammoth Lakes – great options if you're interested in learning more about this beautiful region.
No matter what your interests are, these lesser-known events will give you a taste of everything Mammoth Lakes has to offer beyond its famous landmarks and festivals.
Mammoth Lakes Summer Events FAQs
Is Mammoth Lakes worth visiting in the summer?
Definitely! With a unique combination of events and festivals, coupled with outdoor activities like hiking, fishing, and mountain biking, Mammoth Lakes has plenty to keep you busy from dawn till dusk and beyond.
What should I pack for my summer trip to Mammoth Lakes?
Summertime in the mountains is often filled with mild days and cooler nights. Pack layers so you're prepared for any temperature changes. Don't forget to bring comfortable shoes as most events take place outdoors with standing room only. Also, consider bringing sunscreen and hats, as temperatures can rise during the summer months. For more information on what to pack, check out local outfitter ASO for a Mammoth Lakes packing checklist.
What if I want to bring my dog, but the event doesn't allow pets?
If you can't stand the thought of traveling without your four-legged friend, Little Paws Pet Care and Sierra Dog Ventures offer dog walking and pet-sitting services while you're out for the day.
Is Mammoth Lakes crowded during the summer?
While it can get busy during peak travel times like holidays, Mammoth Lakes generally has fewer crowds than popular beach destinations. It's best to book lodging and select restaurant reservations early during peak times and when larger events are happening.
How easy is getting around Mammoth Lakes if I don't want to drive or find parking?
Super easy! Once you're in town, feel free to park the car and hop on an open-air trolley. Several routes wind around the town and up into the Lakes Basin. Rides are free and take passengers at one of the many bus stops around town, including most major event venues.