Picnic spots near Mammoth Lakes are everywhere and provide plenty of opportunities to enjoy nature, relax in a serene setting, bond with loved ones, and engage in outdoor activities.Whether you're an outdoor enthusiast who enjoys hiking to extraordinary destinations or a road warrior looking for easy access to scenic spots you'll find plenty of places to dine in stunning outdoor settings.
In fact, the challenge most visitors to the Eastern Sierra face is not finding great spots for a picnic but choosing among them.
Fear not! We have a handful of top locations featuring serene environments and stunning views, gear recommendations, and tips for staying comfortable and safe in alpine environments.
Picnic Spots Near Mammoth Lakes
Imagine yourself surrounded by the soulful beauty of nature, with a picnic basket in hand and an adventurous spirit. This is what awaits you at Mammoth Lakes in the Eastern Sierra. Here are some picturesque spots that offer a space for your meal and stunning views to feast your eyes on.
Mammoth Lakes Basin
The picturesque Mammoth Lakes Basin presents fantastic opportunities for picnicking in a picturesque alpine setting close to town. Many picnic spots are accessible by car, and for those who seek solitude, there are plenty of quiet spots within easy walking distance on flat, well-maintained trails.
Whether opting for a picnic along crystal clear waters or on a boulder surrounded by mountains in the backcountry, the Mammoth Lakes Basin offers a picnicker's paradise and plenty of options for exploration, relaxation, and adventure.
Horseshoe Lake is a perennial favorite, especially for families and dog lovers. Whether you choose a spot on the beach near the parking lot or hike to a quiet spot along the 2-mile hiking trail surrounding the lake, you'll find a serene setting near tranquil waters, surrounded by pine trees and boasting gorgeous mountain views.
Lake George. This smaller lake, tucked up above Lake Mary offers a serene high-altitude setting for savoring a meal. There is a campground and picturesque wooden boat dock next to visitor parking. A rugged trail around the lake allows picnickers to choose a spot on a sandy beach or amid boulders overlooking the lake. A three-mile hike up to Crystal Lake offers even more adventure and alpine views for more adventurous hikers and picnickers.
Lake Mary. You'll always find a quiet place to picnic along the shores of Lake Mary. It's the largest lake in the Lakes Basin. The numerous trees offer seclusion and a perfect place to string a hammock for an after-meal nap in the cool mountain air. Looking for an interesting experience, rent a boat from the Lake Mary Marina or Standup Paddleboard (SUP) from the Pokonobe Marina and take your picnic out onto the open water.
Duck Pass Trail. Starting from the Cold Water Campground trailhead, the path towards Duck Lake presents a variety of potential picnic spots in the Sierra Nevada landscape, with the unique ability to choose your hike's length and difficulty. For a gentle stroll, a tranquil lakeside spot near the trailhead could make a perfect picnic backdrop. However, if you're up for a challenge, a more demanding trek can lead you to a secluded vista for an exclusive picnic. This trail's beauty lies in its flexibility and diversity of scenes, promising an ideal picnic spot regardless of your hiking preference.
Minaret Vista
Minaret Vista in Mammoth Lakes is a beloved year-round picnic spot, offering breathtaking views of the Mammoth Lakes skyline, including Mammoth Mountain, the Minarets, Ritter, and Banner peaks. In the warmer months, visitors can enjoy a leisurely picnic dinner and drinks while watching the sunset. The vista is a popular destination, so it's advisable to arrive early to secure a picnic table or have a tailgate picnic in the parking area. During winter, adventurous travelers can reach the vista on a 2.5-mile trek along Minaret Vista Loop, where they'll be rewarded with unparalleled views of the Minarets and Ritter Range at 9,200 feet. For a more luxurious winter picnic experience, guided snowcat tours provide a heated ride to the vista, complete with wine, hot chocolate, and a charcuterie board.
In Town
For those looking for a perfect picnic spot that offers unique experiences that are easy to access, the area surrounding Sierra Meadows Ranch is full of picnicking opportunities within an easy stroll from your tiny home rental. Whether you prepare your own meal in your unit or pick up takeout from a nearby restaurant, there are plenty of scenic spots steps from your door.
Mammoth Creek Park (closed 2022-2023 while under construction). Just across Old Mammoth Road on the Multi-use path, you'll find Mammoth Creek Park. This little public park checks all the boxes. It has a beautiful grassy lawn, shade trees, an inclusive playground, as well as plenty of natural boulders and features for adventurous kiddos. The soothing sound of Mammoth Creek can be heard whether you are near it or not. While the new Recreation Center has made this a popular destination for locals and visitors alike, there are still plenty of spots to set up an impromptu picnic with takeout from a nearby restaurant.
Hayden Cabin. The Hayden Cabin is situated across the meadow from Sierra Meadows Ranch and is a quick stroll to the grassy lawn. The cabin is an iconic Depression-era hunting and fishing lodge built over the course of 10 summers by mapmaker Emmett Hayden. Today, it is carefully preserved and houses the Mammoth Museum, a quaint collection of historical artifacts, photos, and furnishings that provide a snapshot of Mammoth's history from the 19th-century gold-camp era to the 1940s. This time capsule of a location features a green lawn and picnic tables along the banks of Mammoth Creek. When the museum is open, take a tour of the museum after your meal. The suggested donation is $5.
Sherwin's Vista.  Sherwins Vista, reachable via a short stroll or bike ride along the Town Loop and offers sweeping views of the Sherwins, Mammoth Crest, Mammoth Mountain, and Ritter and Banner peaks. You'll find plenty of options for your picnic. For your comfort and convenience, there's a picnic table at the Vista and plenty of benches along the way. The area is also a haven for bird enthusiasts, boasting up to 20 species, including Steller's jays, mountain chickadees, and northern flickers, alongside migratory warblers in the willows and hawks in the skies. This blend of scenic and wildlife viewing makes it a truly unique picnic location.
The tranquil beauty of picnic spots near Mammoth Lakes can't be beat. Close-to-town locations like Horseshoe Lake and Minaret Vista add a dash of adventure and stunning views to your meal. #PicnicAdventures #MammothLakes
Which Foods Work Best for Picnics
Packing the right foods can make or break your picnic experience, especially in the mountains. The key lies in choosing food items that curb post-hiking hunger pangs and retain freshness during the hike. Opt for food items and recipes that taste great at room temperature, travel well, and aren't squashed or soggy.
Fresh Fruits and Sturdy Vegetables
Fresh fruits and vegetables are an excellent choice for picnics due to their nutrition, portability, and ability to stay fresh. Consuming them raw or incorporating them into salads is an option worth considering. Choose sturdy fruits and veggies over soft ones. Think apples and pears rather than peaches or delicate berries, which can bruise easily and get smashed in backpacks. Similarly, raw carrots, celery, and jicama or steamed broccoli travel better than tomatoes and cucumbers. Bell peppers fall somewhere in the middle, and precautions should be taken to protect them.
Dips like hummus or guacamole can quickly go into a ziplock bag and elevate raw veggies. Just remember proper storage in cooler bags is essential to prevent potential spoilage.
Lean Protein and Complex Carbs
For longer adventures, consider packing foods that include high-energy, slow-release carbohydrates, such as those found in whole grains, pulses, or natural sugars. These are ideal for sustained energy during long hikes.
Protein intake plays a crucial role in recovery from a strenuous hike. even if you are not hiking, adequate protein helps. Sandwiches made using lean meats (turkey/chicken breast) work well; just make sure to forego the mayonnaise or grab some shelf-stable packets from your favorite sandwich shop and toss them in a cooler bag to keep them from getting hot.
Pairing lean protein, like chicken, with carbs ensures more steady energy release and helps to avoid energy highs and lows. A classic mountain-friendly protein-carb combo is a crusty loaf of bread and a small selection of good cheeses. Schatts Bakery has an excellent selection of bread. You can find a great selection of cheeses at Vons and a small but well-curated selection of high-quality cheeses at Mammoth Butcher.
Refreshing Beverages
No picnic would feel complete without refreshing beverages, and happy hikers are always hydrated.
Water tops the recommended list for staying hydrated, particularly if planning a long or strenuous hike to your picnic spot.
Beyond water, lightly sweetened homemade lemonade and iced tea or fruit-infused waters can make delightful thirst quenchers.
Although tempting to open a nice, light red wine with a chees spread, it's best to avoid alcohol consumption during hikes due to its dehydrating effects. Even if you are driving or taking an eBike to your destination, drinking and driving is not only illegal, it's dangerous. Save the adult beverages for when you get back.
Planning a picnic for your next trip to Mammoth Lakes? The trick to a delicious and healthy spread is to pack fresh fruits, veggies, protein-rich foods and refreshing drinks. Remember: happy hikers stay hydrated. #MammothLakes #PicnicTips
Essential Gear for a Perfect Picnic at Mammoth Lakes
The key to an unforgettable picnic experience in an epically picturesque place, Mammoth Lakes, and the surrounding Eastern Sierra is packing the right gear. The items you choose can significantly enhance your comfort during mealtime and ensure that you leave no trace behind.
Comfortable Blankets or Chairs
A comfortable sitting arrangement forms the foundation of any successful outdoor feast. This could be as simple as a plush, waterproof blanket spread out on grassy shores of Horseshoe Lake or Lake Mary. A good quality picnic blanket should provide softness and be easily portable.
If you prefer more support than what blankets offer, consider bringing portable chairs. These come particularly handy if your chosen spot has uneven terrain or lacks natural seating options like logs or rocks.
Necessary Utensils & Serveware
Your food selection will determine which utensils you'll need for your outing. If sandwiches and finger foods make up most of your menu, napkins might suffice; salads or pasta dishes call for forks and spoons. Plates too are indispensable – opt for reusable ones instead of disposable versions to minimize waste while enjoying meals in the backcountry.
Beyond eating utensils, remember tools such as bottle openers if beverages with caps form part of your refreshments or corkscrews if wine bottles accompany gourmet cheese selections. Also, don't overlook sharp knives – they prove helpful when cutting fruit slices amidst nature's bounty.
Trash Bags for Cleanup
Maintaining cleanliness during picnics isn't just about personal preference; it's about preserving our environment too. Leave No Trace principles suggest carrying trash bags with us whenever we venture outdoors so we do not leave litter in our beautiful surroundings.
In addition to their primary function, these versatile carriers serve other purposes too; for instance, unexpected rain showers. Use them as impromptu ponchos protecting both yourself & electronics present.
Key Takeaway:
Packing the right gear is crucial when planning a picnic near Mammoth Lakes. A comfy blanket or chair for seating and appropriate utensils based on your food selection are a must. Don't forget small bags for packing out your trash. Good planning and the right gear is key to an unforgettable outdoor feast.
Staying Comfortable When Picknicking Outdoors
When embarking on outdoor adventures, whether hiking to a secluded picnic spot near Crystal Lake or pulling up to Minaret Vista in your car it's essential to think ahead and plan to ensure a comfortable and memorable experience. Being cognizant of wildlife, carrying a well-stocked first aid kit, and maintaining adequate hydration (especially when hiking to your picnic destination) help keep you safe and comfortable in the mountains.
Stay Hydrated Throughout The Day
Hydration plays a pivotal role when spending time outdoors. This holds particularly true while exploring backcountry areas or secluded single-table picnic spots on the Multi-use path and Town Loop.
Pack plenty of water: As general guidance, aim for half a liter per hour per person on a moderate hike.
Increase intake: The amount may need to increase if engaging in strenuous activities or during warmer weather, especially at altitude.
Invest in a portable water filtration system: If you're an avid hiker or picnicker and don't want to pack your water. You'll be hiking in an area with plenty of opportunities to access streams and creeks; consider investing in a backcountry water filtration system like a Sawyer Squeeze system, available at Mammoth Mountaineering Supply.
Remember that staying hydrated isn't just about drinking water and replacing electrolytes lost through sweat. Hydration tablets from brands like Liquid IV or Nuun can help with hydration and replenishing electrolytes.
Be Aware Of Wildlife Around You
The natural beauty of Mammoth Lakes includes its diverse wildlife population, which ranges from small critters like the golden-mantled squirrel up to larger animals such as bears.
Maintain distance: If you encounter wild animals while hiking and picnicking outside popular, well-developed areas, maintain a safe distance. Most animals, including black bears, prefer to avoid contact with humans and will often leave the area once they become aware of you.
 Scare them away: If you encounter a larger animal like a bear in a developed area, scare it away by yelling, making noise with a backcountry whistle, or banging objects together.
Avoid feeding them: Never attempt to feed wild animals, whether big or small. Some creatures might interpret this action aggressively, and others may start coming back to well-traveled areas expecting humans to feed them, which can turn them into a "nuisance" to humans. At best, "nuisance" animals may be relocated and at worst, destroyed.
Respecting the wildlife's space ensures your safety and helps preserve and support local fauna.
Carry a Small First Aid Kit
Accidents can happen unexpectedly, even in peaceful, serene natural surroundings. Carrying a well-stocked first aid kit is a smart move.
A mini first aid kit for hikes should be lightweight, compact, and yet comprehensive enough to cover common injuries and illnesses you might encounter on the trail. Here's a list of essential items you might consider including:
Adhesive Bandages: Assorted sizes for small cuts, blisters, and abrasions.
Sterile Gauze Pads and Adhesive Tape: For larger wounds and to stop bleeding.
Antiseptic Wipes or Solution: To clean wounds before dressing them.
Tweezers: Useful for removing splinters, thorns, or ticks.
Safety Pins: Can be used for securing bandages or removing splinters.
Pain Relievers: Aspirin, ibuprofen, or acetaminophen for headaches, pain, or fevers.
Antihistamine: In case of allergic reactions.
Moleskin or Blister Treatment: To treat or prevent blisters.
Emergency Whistle: To signal for help if you get lost.
Mini Scissors: Small pair for cutting tape, gauze, or clothing.
Gloves: Latex or nitrile gloves for protection when treating wounds.
Remember, the first aid kit should be tailored to your personal needs. If you have specific medical conditions (like severe allergies, requiring an EpiPen), or you're going on a particularly long or remote hike, you'll need to consider that. Checking the kit before each hike and restocking as needed is essential to ensure you always have what you need. Also, knowing how to use the items in the kit is just as important as having them; consider taking an introductory first aid course if you spend a lot of time outdoors.
Heading out for a picnic near Mammoth Lakes? Remember to stay hydrated, respect wildlife, and carry a first aid kit. Your safety is as important as your adventure. #MammothLakes #OutdoorSafetyTips
Top Picnic Spots Near Sierra Meadows Ranch
Because Sierra Meadows Ranch is right on the edge of town, it is close to all the restaurants and amenities you crave while feeling like it's in the heart of nature. located in the heart of a meadow with panoramic mountain views, the area surrounding Sierra Meadows Ranch is a treasure trove of hiking trails, each offering unique vistas and experiences. By combining your picnic with a hike, you can immerse yourself in the natural beauty of this region while enjoying an al fresco meal amidst breathtaking scenery.
Easy: Sherwin Creek Road To Sherwin Creek Campground
If something less strenuous but equally rewarding is what you're after, consider taking Sherwin Creek Road towards Sherwin Creek Campground. This gentle walk takes you through picturesque meadows teeming with wildflowers during springtime.
Moderate: Sherwin Lake
Embarking on the trail to Sherwin Lake, you'll find yourself immersed in the natural serenity of aspen groves and old-growth Jeffrey pines. This moderately strenuous trail begins just past the Borrow Pit trailhead off Sherwin Creek Road.
This is a great option for spring and early summer hikes when the wildflowers bloom, and the air is filled with the crisp scent of pines. The path quickly transitions into a series of steep switchbacks that lead up to a small plateau.
Here, you'll be greeted by the stunning sight of Sherwin Lake, a tranquil body of water nestled beneath the high peaks of the Sherwin Range. The clear lake reflects the majestic mountains, providing an idyllic backdrop for your picnic.
As you settle down for a meal amidst this breathtaking panorama. A picnic at Sherwin Lake is not just a meal; it's an opportunity to connect with nature's beauty, drawing inspiration from the landscape even as you refuel for the journey back.
Strenuous: Valentine Lake
If you're looking for more of a challenge and a quiet escape from the modern world, keep going past the Sherwin Lakes Trail junction and hike up to Valentine Lake.
The trail winds past Lost Lake, nearly hidden among boulders and aspens. As you reach your destination, the secluded alpine beauty of Valentine Lake reveals itself, nestled beneath towering 12,000-foot peaks.
This strenuous 9.2 mile is perfect for adventurers looking for a natural workout and a peaceful spot to dine al fresco. The serene lake and rugged mountain views make this an excellent choice to relax and enjoy your picnic in tranquility. Whether relaxing lakeside or exploring around the lake's edge, a picnic at Valentine Lake is a remarkable experience waiting at the end of a strenuous yet rewarding hike.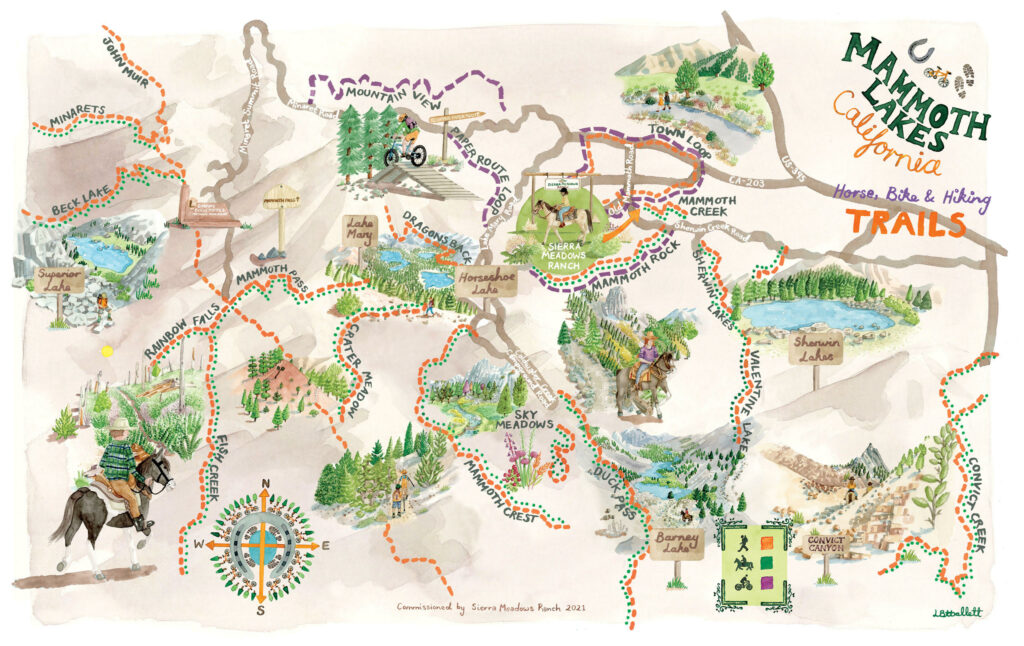 Discover the beauty of Mammoth Lakes. A hike and a picnic at Sherwin  or Valentine Lakes combines breathtaking views with serene lakeside vibes. Start on Sherwin Lake trail and hike to Sherwin Lake or continue on to Valentine Lake. Whether you stay near or go far, hiking the Sherwin Lake Trail unique vistas and experiences. #MammothLakes #HikingAdventures
Mammoth Lakes is surrounded by picturesque locations perfect for spreading out a picnic blanket and enjoying a meal in the heart of nature's. They offer picnic destinations that cater to every taste and preference, both nearby and off-the-beaten path.
FAQs for Finding Your Perfect Picnic Spot
Where is the best place to picnic in the Town of Mammoth Lakes?
Horseshoe Lake offers scenic picnic spots amidst Sierra Nevada's picturesque backdrop. Here, one can enjoy a serene meal by the water, shaded by towering pines.
Alternatively, the Rainbow Falls Trailhead in the Ansel Adams Wilderness leads to a breathtaking waterfall, where you can picnic surrounded by wildflowers and native pines. With their unique natural beauty, both locations promise a memorable outdoor dining experience in the town of Mammoth Lakes.
What are some family-friendly picnic spots near Mammoth Lakes?
Family-friendly picnic spots should ideally be easily accessible, offer restrooms and picnic tables, and present various activities to entertain all ages. Mammoth Creek Park, located in the heart of Mammoth Lakes, is a versatile space offering a playground, sports courts, and plentiful picnic facilities. Horseshoe Lake, in the Mammoth Lakes Basin, combines tranquil picnic spots with options for water activities and easy hiking trails, while June Lake, known as the 'Switzerland of California,' delights families with its beach and fishing opportunities. Lastly, Shady Rest Park off Main Street, with its BBQ grills, sports fields, and walking trails amidst towering pines, provides a comfortable and engaging outdoor experience. These spots all encapsulate the ideal features for a family-friendly picnic in the Mammoth Lakes area.
Can I bring my dog on my hike and picnic in the Eastern Sierra?
Yes, you can bring your dog on your hike and picnic in the Eastern Sierra, but with some important caveats. Many trails in the region, including those in the Inyo and Sierra National Forests, are dog-friendly. Within Mammoth Lakes Town limits, dogs are required to be on a leash. Outside of Town limits, dogs must be under voice command. However, dogs may be restricted or not permitted in certain protected areas, such as national parks and some wilderness areas. Always check the specific regulations of the area you plan to visit beforehand to ensure a safe and enjoyable outing for you and your pet.
What's the best place to bring my dog on a hike and picnic near Mammoth lakes?
If your dog loves the water and is good off-leash, consider a destination with a lake or plenty of streams along the way, like the trail to Duck Lake. If your pup needs a leash and some restrictions, consider a forested area, like on of the lakes in the Lakes Basin.
What's the best spot for a proposal picnic near Mammoth Lakes?
The picturesque Twin Lakes overlook in Mammoth Lakes makes for a perfect proposal picnic spot. The stunning view of the crystal-clear lakes, surrounded by majestic mountain peaks and towering pine trees, provides a beautifully romantic backdrop that will make the moment unforgettable. It's a tranquil location where you can enjoy a secluded picnic before or after the big question and even take a scenic walk along the lakeside. Always check the weather and time of your visit for when the lighting is just right to ensure the setting is as magical as the occasion itself.
Minaret Vista, with its breathtaking panoramic views of the Minaret Range, Ritter Range, and Mammoth Mountain, is another fantastic spot for a proposal picnic near Mammoth Lakes. The majestic vista serves as a remarkable backdrop for such a memorable moment. You can set up a picnic at one of the nearby tables or choose a secluded spot amidst the scenic natural beauty. Following the proposal, celebrate with a walk along the ridgeline, hand-in-hand, immersed in the incredible landscape. The dramatic sunsets here can add a romantic ambiance to your unforgettable day.