Beyond the Slopes, Unforgettable Adventures Awaits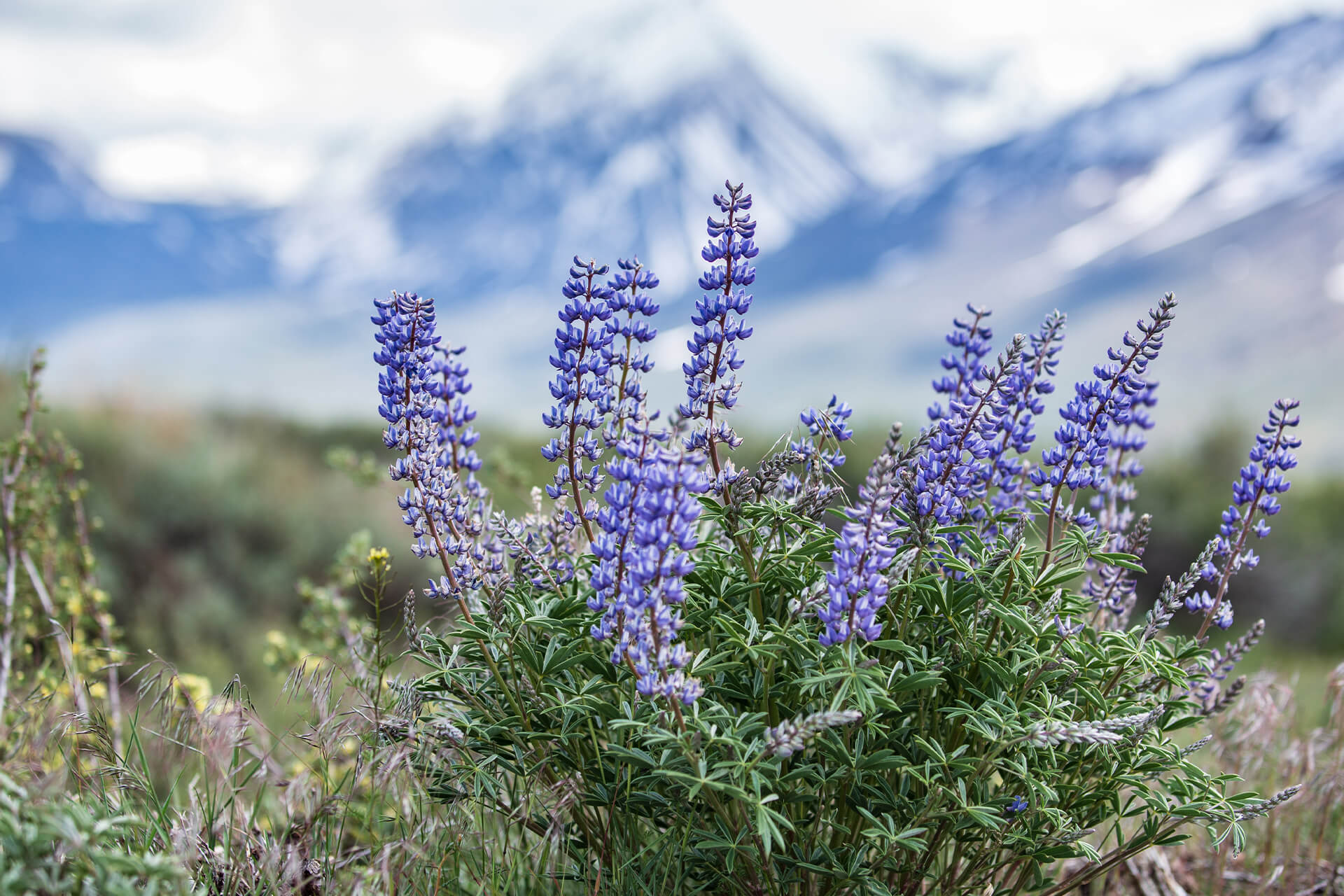 Spring extends the ski season with warm weather and longer days, and spring in the Eastern Sierra offers endless possibilities for mountain adventures and laid-back, scenic tours alike. Whether you're in town for a weekend of spring skiing or planning to stay a bit longer to explore more, we invite you to discover how to enjoy a year's worth of activities in a single trip.
From hiking to horseback riding, mountain biking to fishing, there is something for everyone to enjoy in this stunning Mountain destination: an easy drive from L.A. or San Francisco.
Enjoying multiple adventures (and seasons) in one trip is one of the best aspects of spring in Mammoth Lakes. In fact, springtime offers unique opportunities for mountain adventure you won't find during any other time of year.
Take A Hike. With its natural beauty and diverse terrain, exploring the Mammoth Lakes area's scenic trails and valleys is unparalleled. Oh, and unlike other mountain destinations, this unique alpine environment on the high desert steppe does';t have a messy mud season.
Grab your bike. Whether you prefer leisurely strolls or heart-pumping mountain bike rides, we've got you covered. Just outside town, Rock Creek and Sand Canyon offer adrenaline junkies some serious opportunities for high-speed thrills while taking in breathtaking views at every turn.
Enjoy Alpine Lakes. If all that isn't enough, water lovers can take advantage of crystal-clear lakes with fishing and boating options throughout the warmer months once the ice melts.
Go Climb a Rock. No matter how deep the snowpack, the Eastern Sierra is renowned for year-round rock climbing. But you don't need to be an advanced climber to enjoy vertical fun. Head to Owen's River Gorge for rock climbing or the Buttermilk Buttermilks for bouldering. You'll find beginner-friendly starter routes right up to expert-level challenges.
We invite you to branch out and adventure beyond the slopes this year. Ground Up Climbing offers guided experiences and beginner to intermediate lessons.
Wildflower Viewing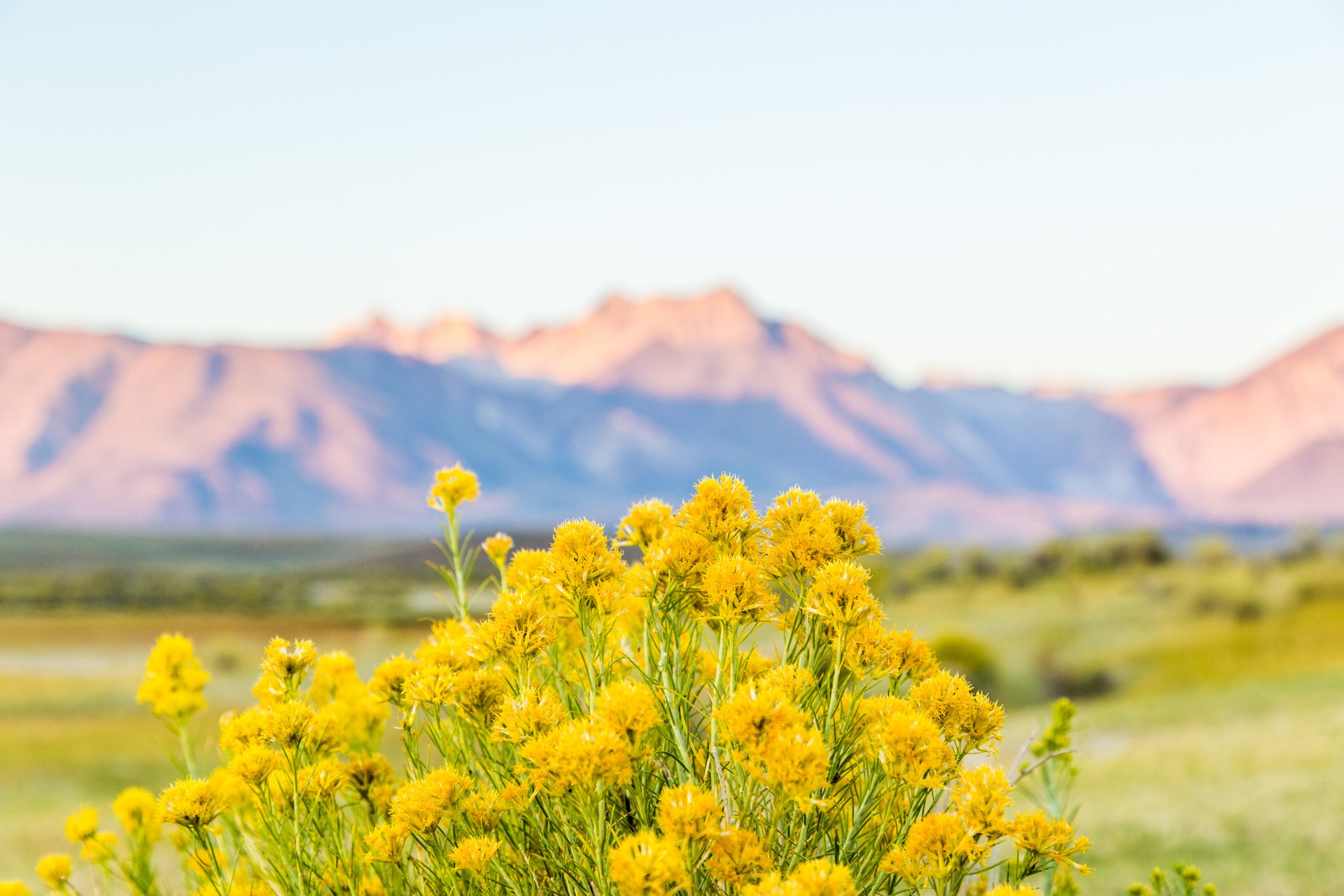 While wildflower season typically begins in late spring and early summer, there are still plenty of wildflowers to find if you know where to look. Remember that a heavy winter with deep snowpack can push the wildflower season back months. In a year like 2016/17 or 2022/23, early spring wildflowers may start to bloom as late as June or July.
Snow Plant Snow Flower (Sarcodes sanguinea). This extraordinary bright red flower with bell-shaped blooms starts to bloom as the snow recedes. You may even find one blooming right in the snow. Look for this show-stopper between April and June on the edge of the snowline in humus-rich, shady areas. Early in the season, you can find it nearby in places like the forest below the Mammoth Rock Trail or in the Lakes Basin. Later in the season, you may have to chase it up the snowline.
Wild Iris. (Iris missouriensis) This elegant flower with deep blue or purple petals and a yellow center can be found in wet meadows and along streams. A pretty grouping of wild iris is right across the way from Sierra Meadows Ranch at the Hayden Cabin. Look for these beauties on the lawn adjacent to Mammoth Creek from late May to early June.
Lupine. (Lupinus spp.) This wildflower is iconic, with its spikey purple and blue flowers, and it's also an essential part of the ecosystem. Like sweetpeas and peanuts, Lupine is a legume that fixes nitrogen in a form that other plants in the area can use. Lupine seeds also proved an important food source for wildlife, including birds and small mammals. So not only is lupine a feast for the eyes, but it also plays a vital role in supporting the ecosystem's biodiversity. Lupine blooms between May and June.

Note: because lupin is in the same family as peanuts, people with peanut allergies may also react to lupine.

Finding wildflowers right outside your door: Your search for wildflowers can begin right outside your door at Sierra Meadows Ranch. Head about a quarter of a mile down Sherwin Creek Road to the Borrow Pit trailhead, where you'll access Mammoth Rock Trail. The shady wooded sections are great for snow flower hunting. Soon you'll find yourself on the main trail heading toward Mammoth Rock, with open-air views that give a bird's eye glimpse of the town, the Owens Valley, and the White Mountains beyond.
Bringing your furry best friend. Mammoth Rock Trail is a dog-friendly hike that terminates on Old Mammoth Road, where you can access the Lakes Basin via the Panorama Dome Trail, just a few hundred yards up the road. Or simply sit and relax on the wooden bench, take in the views, and have a snack before returning.
Discovering the Great Outdoors Together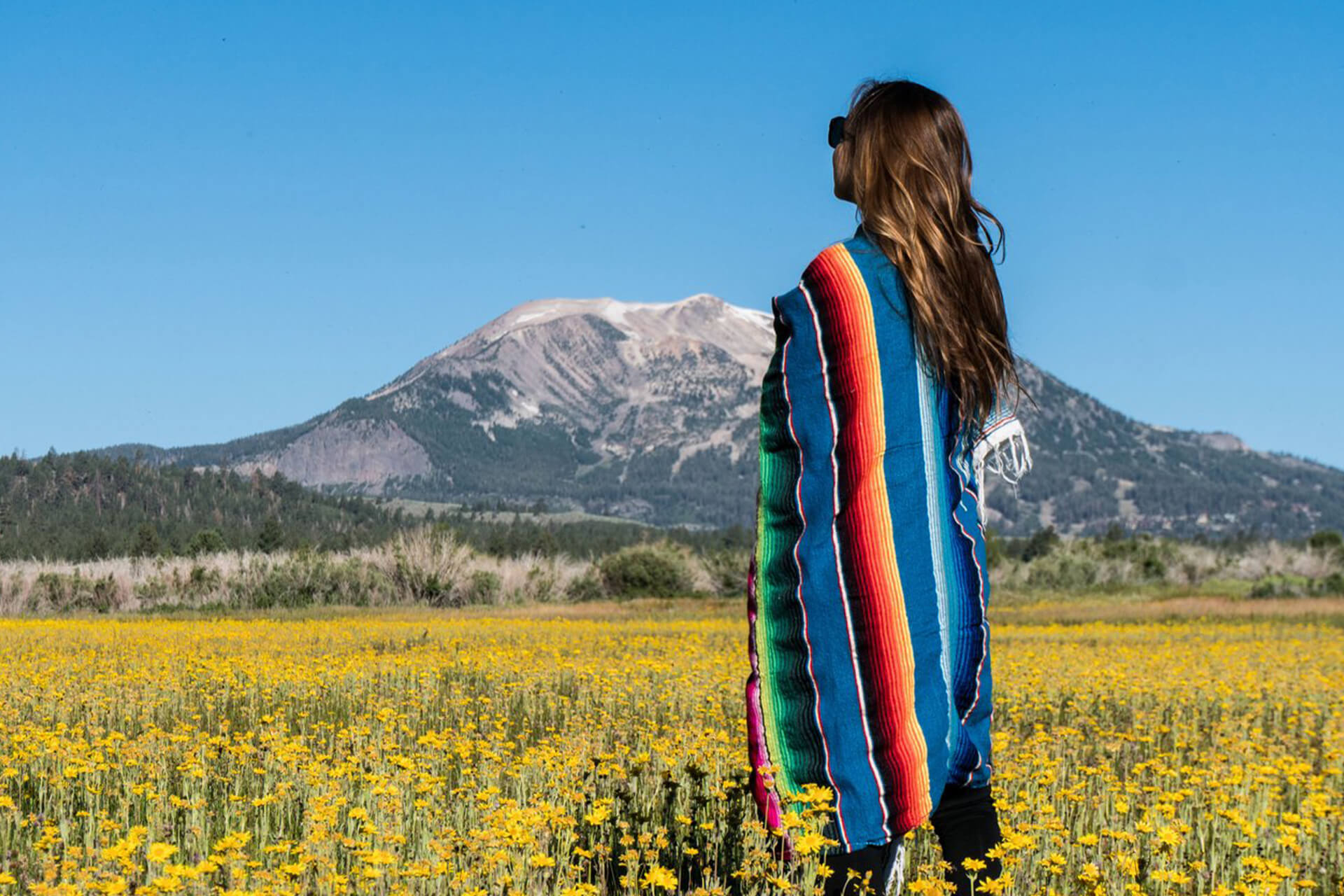 Family-Friendly Mammoth Lakes Mild weather, snow-capped mountain scenery, and plenty of things to do make springtime in Mammoth Lakes ideal for family travel. Most activities are suitable for all ages and abilities, and the option to embark on a new adventure each day can help keep the kids connected to the experience of being outside in nature and their devices.
Spring Skiing with Families. The mild and warm weather and easy snow conditions make spring skiing easier for kiddos and families. It's also one of those bucket-list novelties that help create lasting memories. Family-friendly runs abound on slower corn snow. Mambo is a favorite for every family member, from the one who loves big, fast, sweeping race turns to the advanced beginning working on a precise pole plant.
Want to enjoy a bit more challenge without the kids? Ski School at Main Lodge offers group and private lessons for kids well into spring. Drop the kids off in the morning and head to "the top" in the Gondola to ski Cornice Bowl or head over to Facelift Express (Chair 3) and give yourself a workout in the soft but still challenging bumps in West Bowl.
Apres Ski Family-style. But families can enjoy opportunities beyond skiing. Consider an easy, scenic hike at sunrise, a quiet afternoon fishing, an adventurous day of morning skiing, afternoon mountain biking, and an after-dinner stroll on the nearby Multi-use Path along Mammoth Creek.
Must-Visit Scenic Spots for Your Mountain Adventure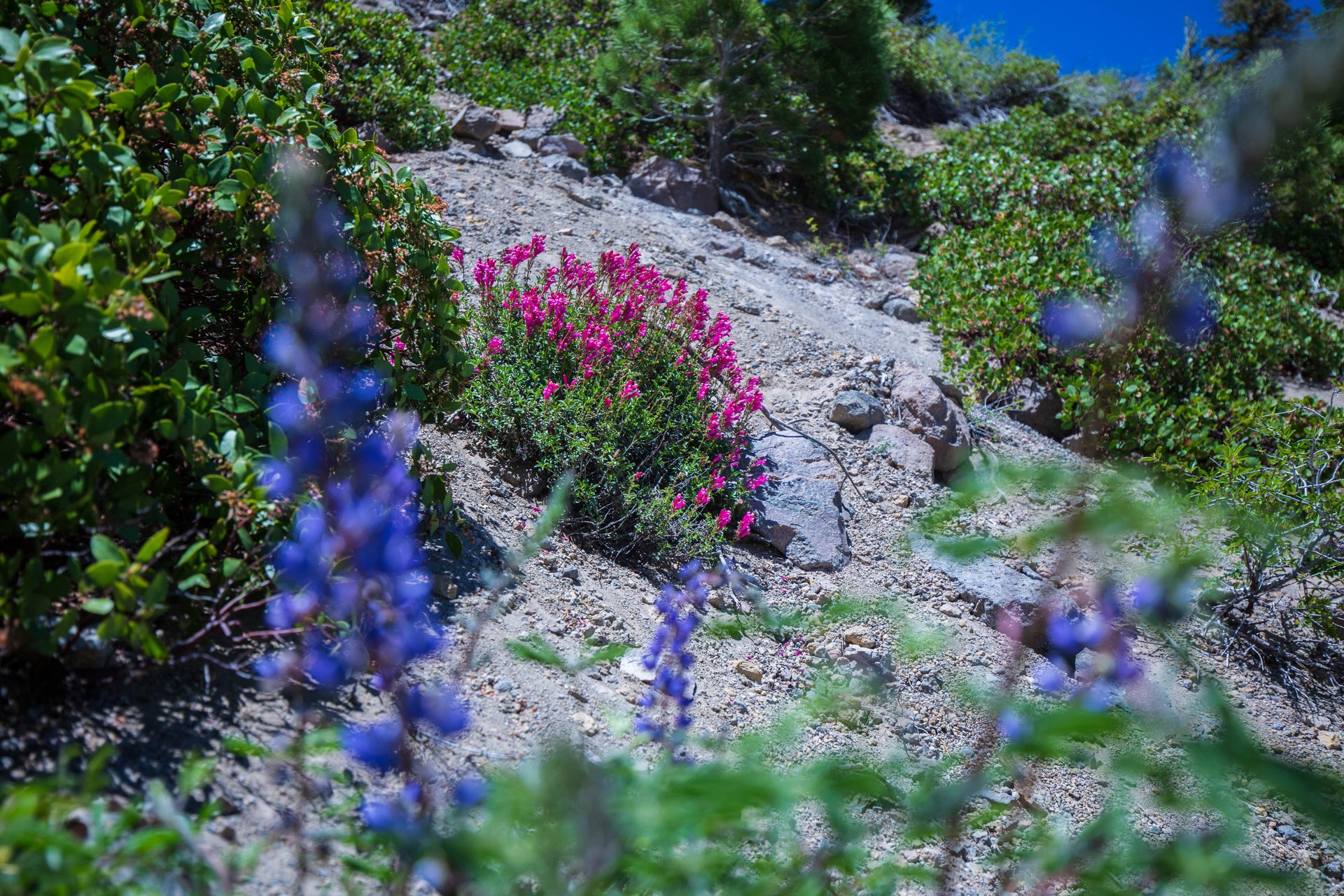 When visiting the Eastern Sierra in Spring, take advantage of the opportunity to explore the stunning mountain landscapes and scenic spots the area is renowned for. Whether you are an experienced hiker, prefer a leisurely stroll, or want to take a scenic drive, these breathtaking skylines and geological features will make your trip unforgettable.
Topping the must-see list are
Mammoth Lakes Basin: This picturesque area is full of alpine lakes, jutting peaks, and tumbled moraines that ancient glaciers have sculpted. Sitting just above the town, the Lakes Basin offers abundant outdoor activities for all ages, interests, and skill levels. Hike through verdant evergreen forests, past crystal-clear lakes, and along babbling creeks, or hop on a mountain or eBike to explore the extensive network of paved and hardpack trails that meander through the landscape. The Mammoth Lakes Basin also provides ample opportunities for warm-weather adventures, including fishing, kayaking, and paddleboarding. Keep in mind that snowpack varies year over year and can affect assessment and conditions.
Convict Lake: Tucked away at the base of the Eastern Sierra Nevada Mountains, just 10 miles south of town sits Convict Lake. This hidden gem features a serene alpine lake surrounded by dramatic peaks. The scenic hiking trail that circumnavigates its shores allows visitors to take in the natural beauty and tranquility from different perspectives. Starting in late April, when the fishing season opens, anglers flock to Convict Lake to cast their lines in pursuit of trout, making it a popular destination for fishing enthusiasts.
Mono Lake: A geological marvel located 20 miles north of town, Mono Lake is famed for its limestone Tufa Towers that rise eerily from the water's surface. More than one visitor has compared the landscape at Mono Lake to that of the moon. A self-guided walking tour along the shore details the geology, ecology, and history of this seemingly otherworldly environment. For a truly immersive experience, join a guided kayak tour with Caldera Kayaks and navigate the serene waters as you learn how an intense volcanic history shaped the region and how the lake's unique ecology contributes to a global ecosystem.
Springtime Mountain Sampler: One Perfect Day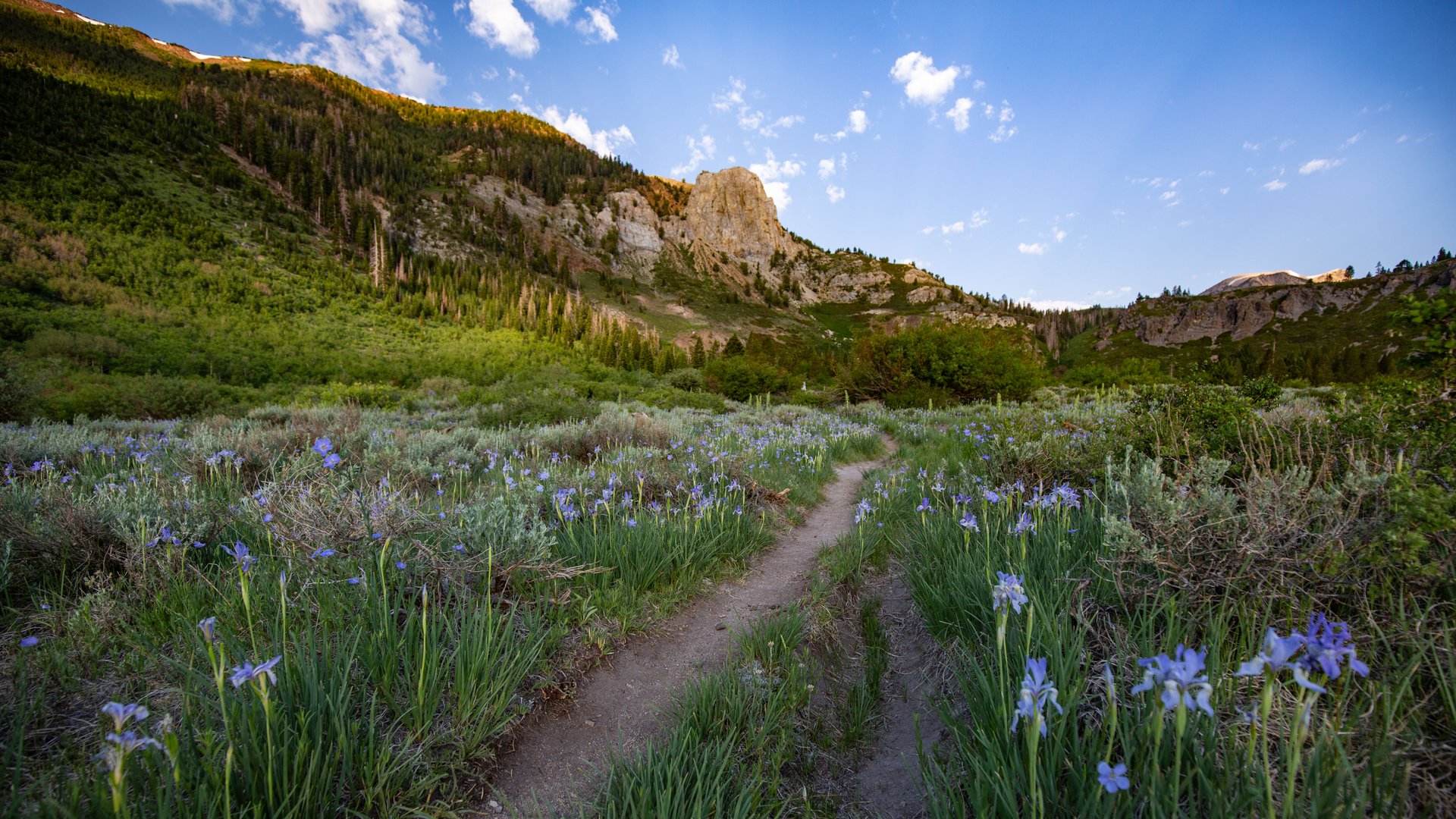 Hit the slopes in the morning, then switch gears and explore hiking trails and fishing holes or take a bike ride in the afternoon. The longer daylight hours also mean more time for activities outside of skiing.
So why limit yourself to only one activity when you could switch things up, exploring more, seeing more, and adventuring more on your trip?
Let's face it, Sking is nice. But Skiing, mountain biking, sightseeing, and rock climbing on the same trip without long days of additional travel is unforgettable.
Enjoy The Sunrise. When you stay with us, you'll wake up and sip your coffee (or tea) surrounded by panoramic mountain views or do some Yoga (how about a Sun Salutation) as you watch the sunrise over the snow-capped White Mountains to the East, or watching as the first golden rays of dawn kiss the top of Mammoth Mountain to the west.
Ski down snowy slopes in the morning. Head to Mammoth Mountain by car or hop on the Red Line. It's a free bus shuttle with ski racks along its exterior to keep your gear securely stowed and you nice and comfortable for the ride.
Hike Mammoth Rock Trail.Spring adventures take you beyond skiing and into Mammoth Lakes' breathtaking natural wilderness trails that begin right on the edge of town.
Do Some Late Afternoon or Early Evening Fishing.The lakes come alive in the late afternoon and early evening as hungry fish come to the surface to feed. The Lakes Basin offers a gentle respite from busy modern life, letting visitors effortlessly connect nature's beauty.
Wind Down and Enjoy the Sunset. After a day filled with outdoor adventure, it's time to head back to your cabin and unwind. Settle into a lawn chair and watch the show, warm beverage in hand and feet propped on a rock. High clouds in spring create a spectacular display of light and texture in the sky as the sun dips low in the Western sky.
Top Restaurants and Cafés for an Action-Packed Day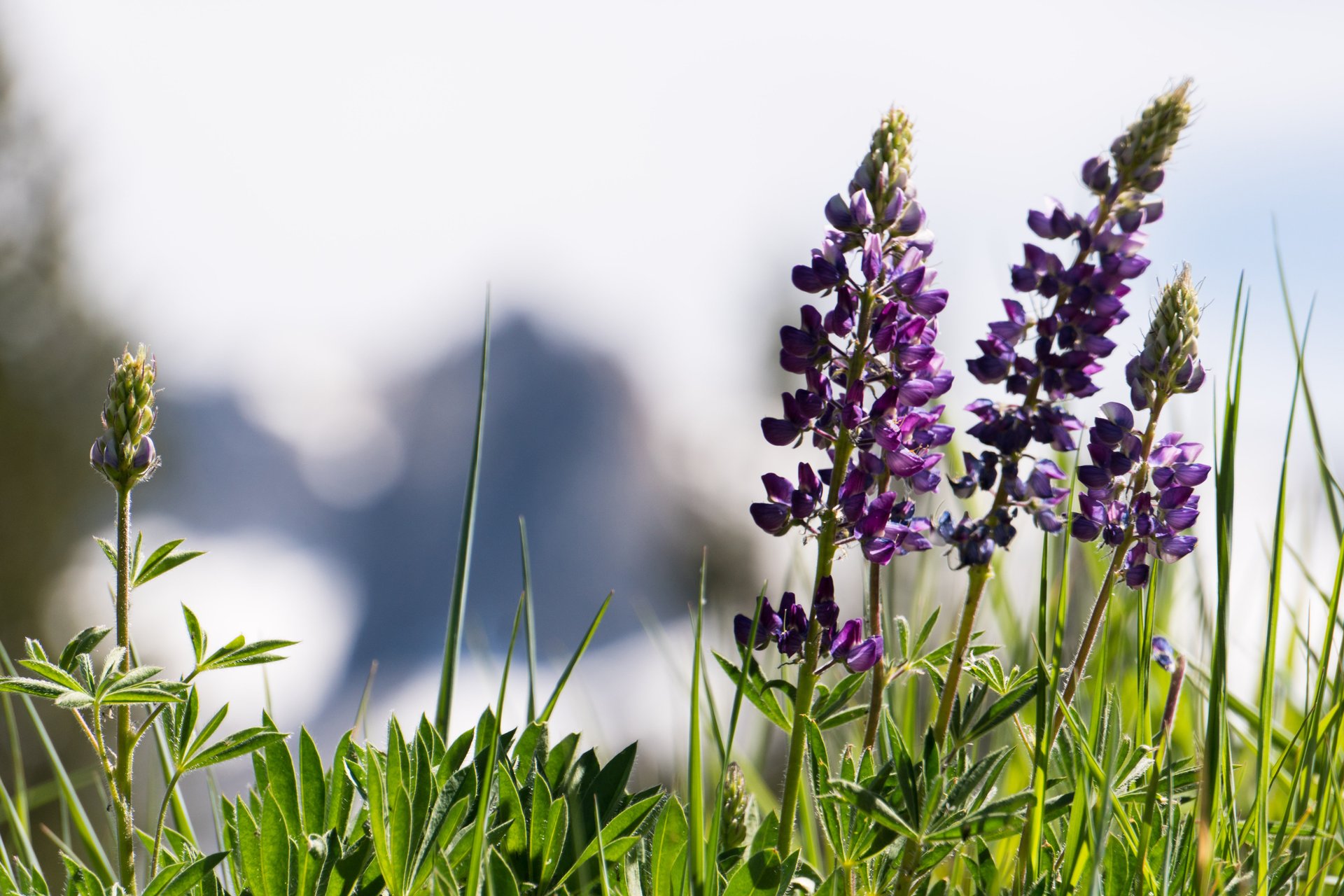 An action-packed adventure demands a well-fueled body, and Mammoth Lakes, California, delivers an enticing array of restaurants and cafés to satisfy your culinary cravings.
Breakfast (or lunch) at the Stove. Kick off your morning at The Stove, a long-time favorite breakfast spot among Mammoth Lakes locals. Whether you're craving classic bacon and eggs or want to try one of their house skillets, everything at The Stove is made from scratch. The servers are some of the nicest in town, and many have worked there for years, so expect to find familiar faces each time you return to Mammoth Lakes.
Grab-and-go at Stellar Brew. Grab a breakfast burrito or gluten-free muffin, along with a dirty chai or lavender latte. The delicious homemade, organic ingredients will keep you well-fueled during a big day of adventure, and grabbing and going will allow you to hit the trail, slopes, or lake early. Not a coffee drinker? No problem. Order an herbal tea and a wholesome smoothie instead.
Get a Taste of History at Schatts for Lunch. If you're planning on lunch in town, make your way to Schatts Bakery for a homemade sandwich filled with hand-carved meats and fresh sheepherder bread. This bread is a classic Basque staple with a long history in the Mammoth Lakes area and throughout the Long Valley Caldera. Whether you choose the turkey cranberry or baked ham, each sandwich promises a harmonious medley of nostalgic flavors.
Best Views for Lunch (or Dinner): Boasting gorgeous views of the Sherwins and a bespoke menu, The Eatery is the place to go if you're craving a hearty meal. The gastro-pup-inspired menu includes crowd favorites like Little Piggie Mac and Cheese, Pork Belly Tacos, or the aptly-named Damn-Good Burger. For those craving veggies, a selection of hearty salads is also available. And friends and families will enjoy sharable options, like housemade pork rinds and waffle fries.
End your day on a sweet note by stopping Dessert'd, by stopping Dessert'd, in the nearby Vons shopping center. This Mammoth Lakes bakery is known for its organic high-altitude baking and tempting treat that's lovingly made from scratch with high-quality organic ingredients. From Cupcakes to cookies, you'll find something to satisfy those end-of-day sweet cravings. Pick up a package of signature handcrafted marshmallow squares and bring them back for a mug of hot chocolate at sunset.
Keep those Mountain Vibes Going Day and Night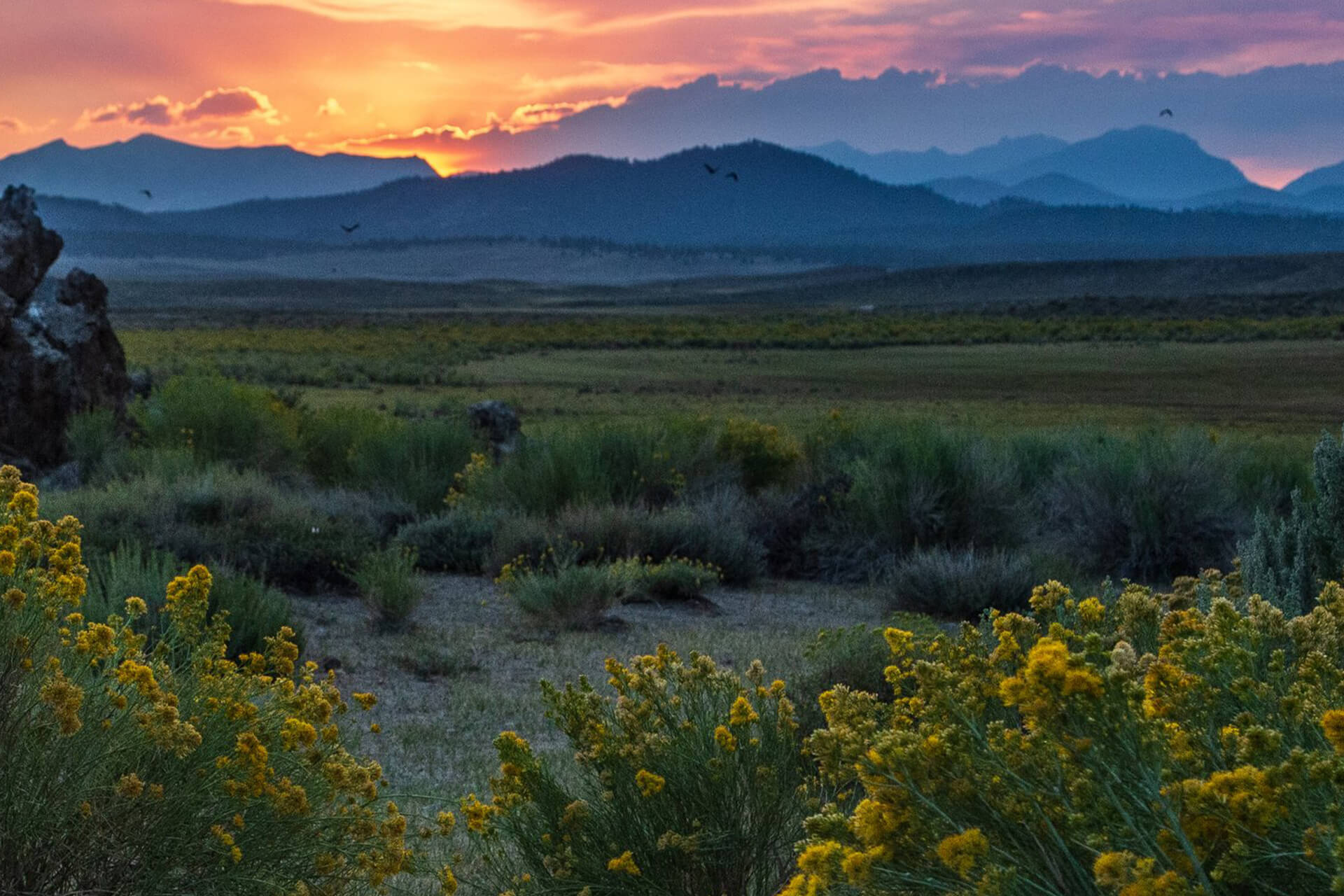 Whichever adventure you choose, one thing is sure – the panoramic views surrounding Sierra Meadows Ranch will fill your cup and infuse your soul with the spirit of the mountains. And it's within walking distance to various Mammoth Lakes restaurants and shopping options.
When you stay with us, you won't return from a day enjoying the splendor and tranquillity of nature only to spend the evening in a cramped or noisy condo from the '70s.
From the moment you return from your latest excursion to when you wake up and take your first sip of coffee, you'll find yourself surrounded by unobstructed, awe-inspiring mountain views.
What's more, a vast array of outdoor activities are available right outside your door– from snowshoeing and XC (or BC) skiing to hiking and mountain biking – it's no wonder travelers from around the globe are drawn to Mammoth Lakes. Sierra Meadows Ranch is fast becoming the preferred spot to stay.
Know Before You Go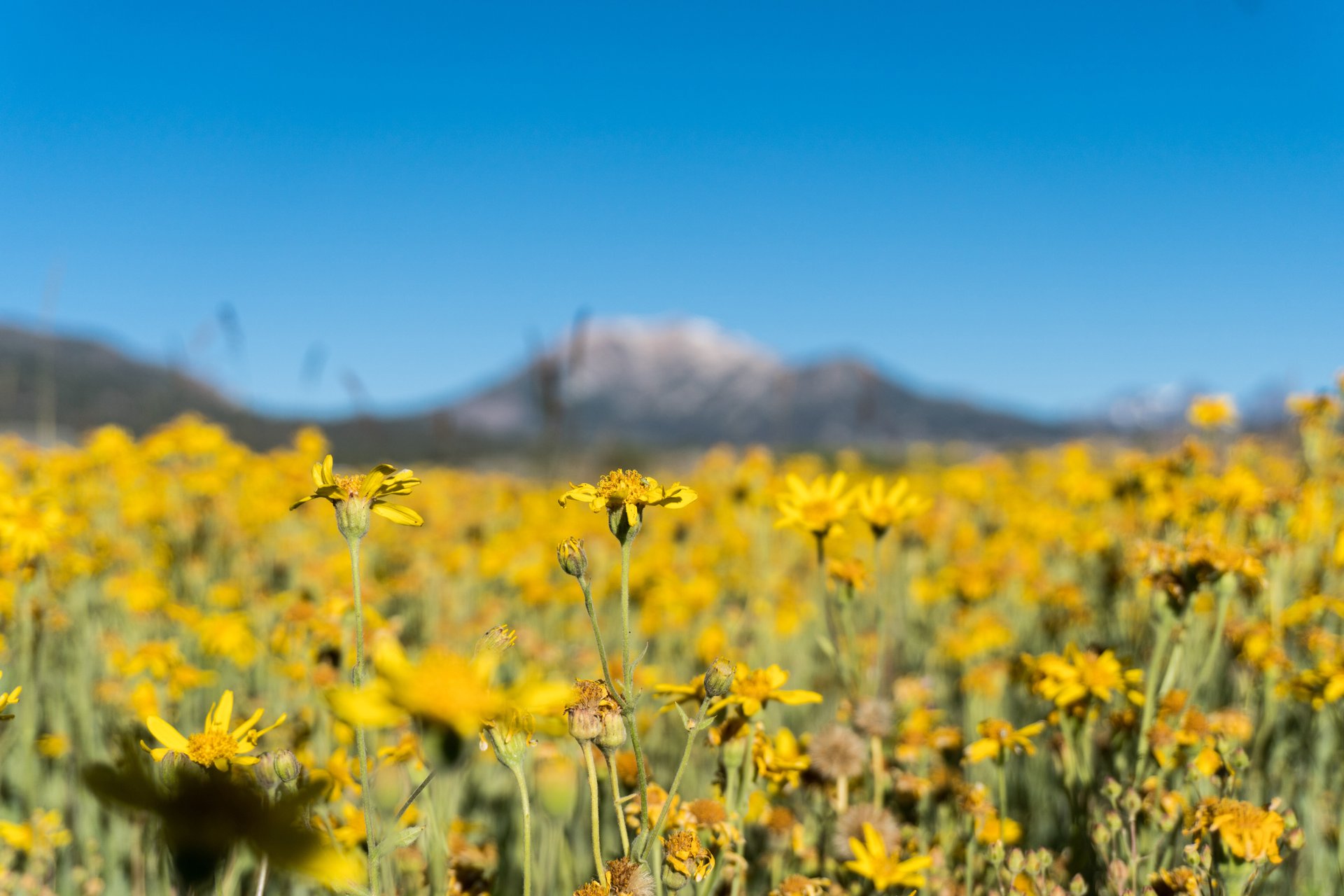 California's mountains can be fickle, and the weather can change quickly. Even if you've visited Mammoth Lakes in the spring in years past, conditions can be drastically different from year to year.
It's important to check the current conditions and local forecasts while planning your trip. Then, check again and make any adjustments to your itinerary based on snowpack, weather, and late-season road or trail closures.
By staying informed, you'll avoid surprises, allowing you to pack for and plan your adventures accordingly. There's a saying in the mountains: "There is no bad weather; there's just bad gear."
So keep an eye on your weather app of choice while your planning and right before your trip. When you're adequately prepared for whatever the mountains serve up, you're free to let the spirit of adventure captivate your heart, and the enchanting beauty of nature fortify your soul.
Stay Close to Town; Feel Away from It All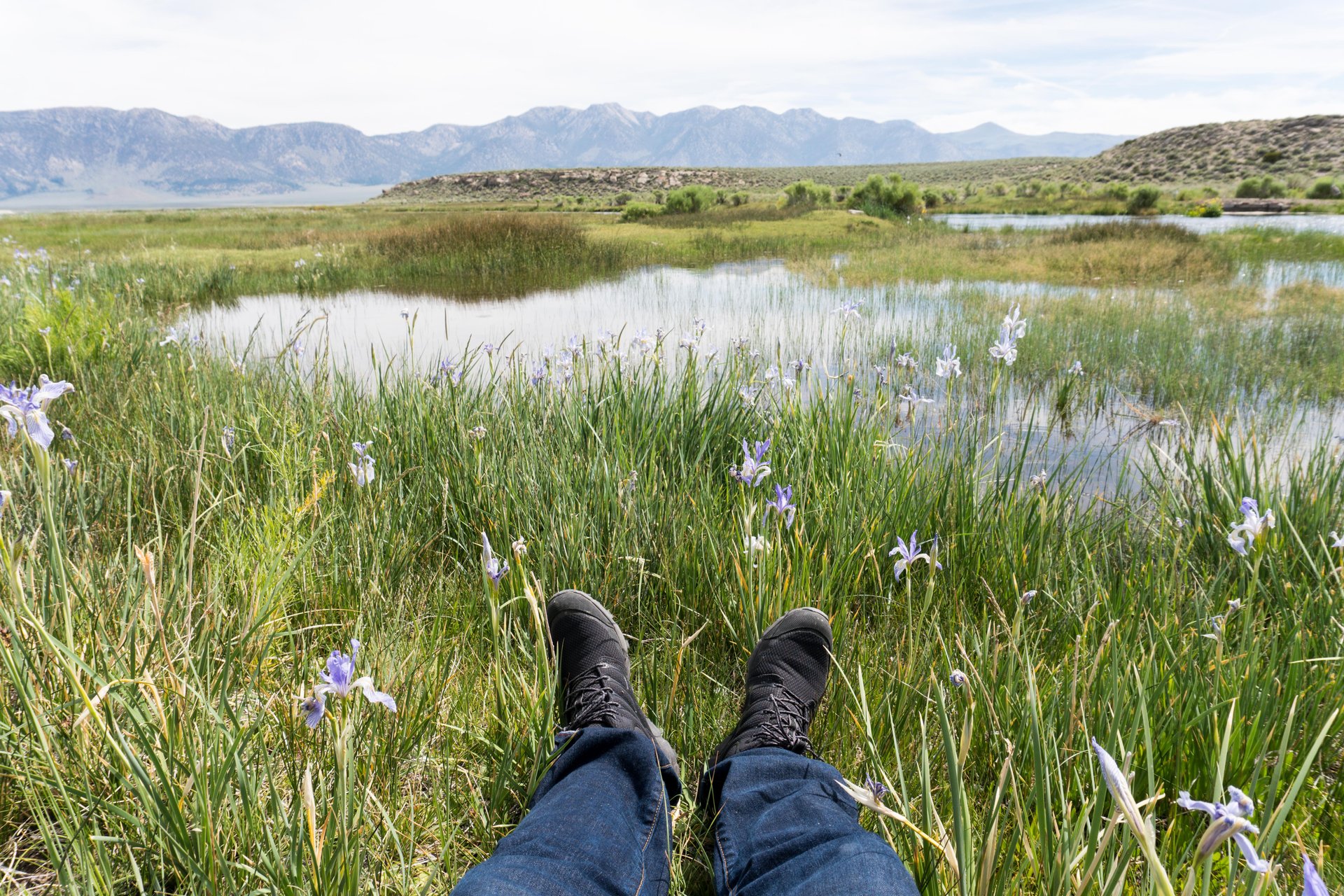 Experience the wonders of spring when you next visit Mammoth Lakes. Explore beyond the slopes by immersing yourself in the breathtaking beauty of nature surrounding Sierra Meadow Ranch. Sierra Meadow Ranch offers a perfect sanctuary with fully stocked kitchens and comfortable private accommodations. You'll also appreciate the convenience of having numerous restaurants within easy walking distance, providing delicious dining options. Make Sierra Meadow Ranch your base camp for unforgettable spring adventures. Plan your next trip at Sierra Meadow Ranch and embrace the boundless opportunities for exploration and adventure that await you.