The Magic of Spring Skiing in Mammoth Lakes, CA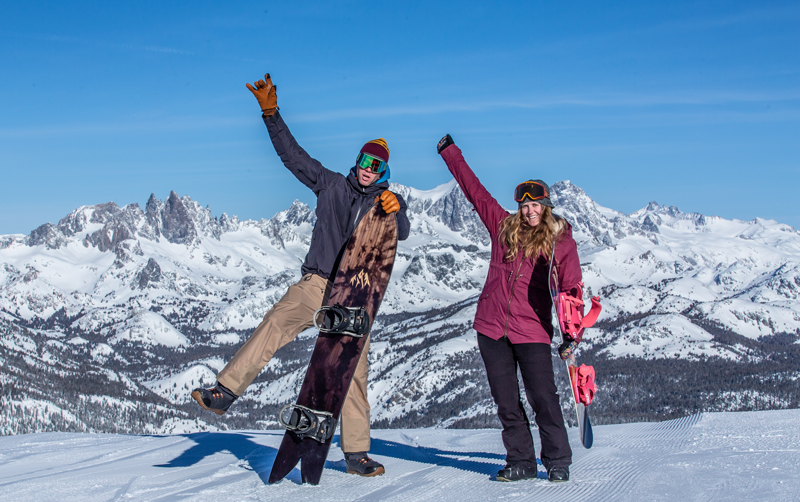 If you prefer perfect weather, exceptional snow conditions, and uncrowded slopes, spring skiing in Mammoth Lakes may become your new favorite vacation. In fact, spring is a favorite time of year for many Mammoth locals, who believe the conditions on the mountain during spring are even better than what you'll find mid-winter.
Is Spring Skiing Really Better?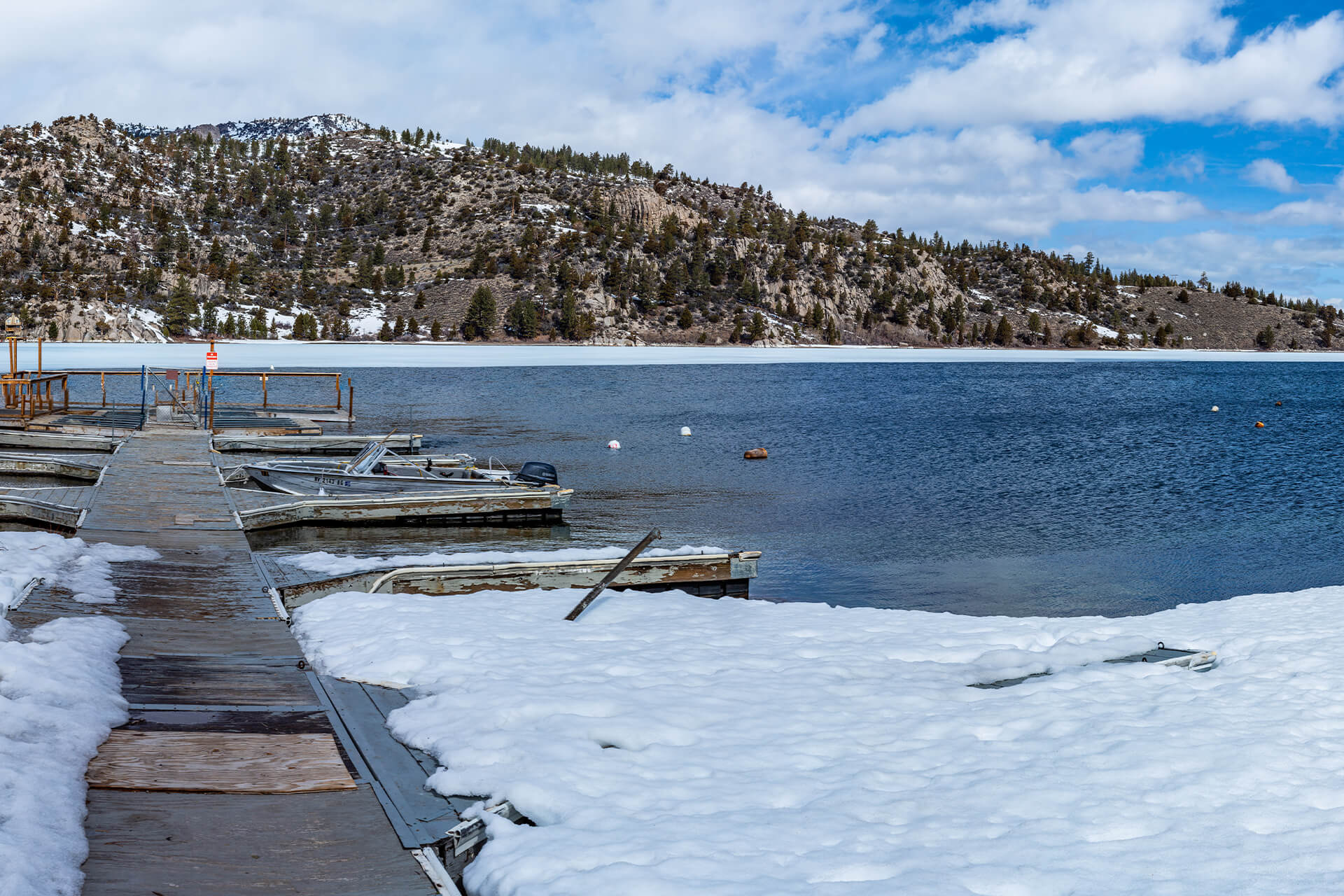 If you're an avid skier, don't hang up your goggles yet! Many locals and long-time visitors embrace the charm of spring in the mountains, and many even believe skiing is better in spring than in winter.
However, spring conditions can also be variable. Sometimes morning corduroy on groomed runs is otherworldly. Other times it feels like skiing on an ice rink. Conversely, afternoon runs on soft, buttery corn snow can make you feel like a hero; otherwise, it turns to mashed potatoes and makes every turn burn in your legs and thighs.
To get the most out of this magical time of year on the slopes, it's a good idea to get into the habit of paying attention to the weather and temperatures or talk to a local or long-time visitor about their approach to hitting the conditions just right. But one thing is for sure: nearly every day in spring offers a unique window of opportunity to ski in comfortable conditions on soft and yielding snow.
Tips for Getting the Most Out of Spring Conditions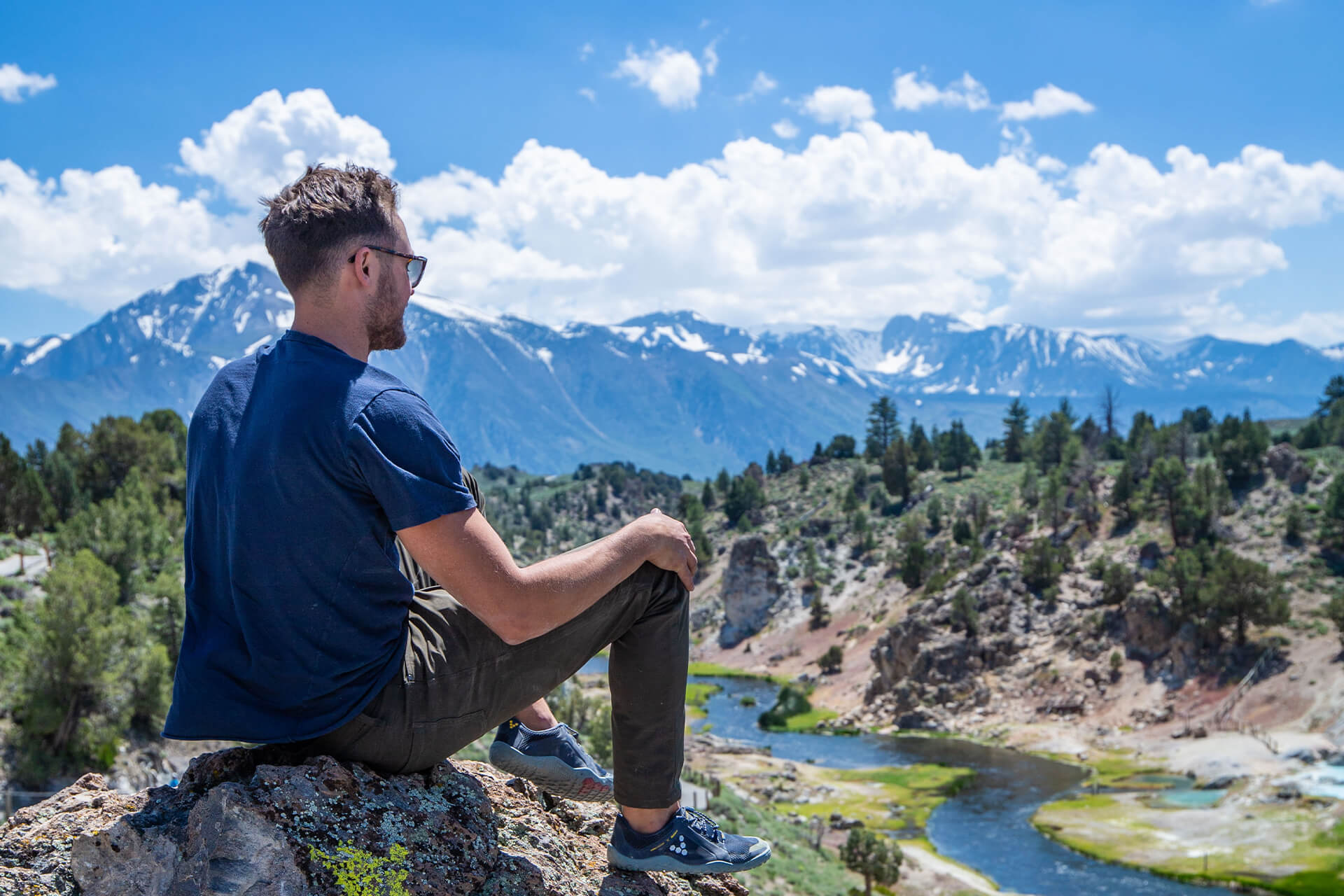 Precipitation and temperatures can fluctuate wildly this time of year. Conditions can be closer to winter one day and flirting with summer the next. To make the most of your spring skiing trip, consider the following insider tips:
If you don't like the weather, wait a minute. Scattered showers and isolated flurries can happen in one section of town while another stays bright and sunny, especially early in spring. However, conditions often clear and stabilize rapidly, unlike big winter storms that can linger for days. The weather tends to be consistently sunny and warm later in the season.
Celebrate windy days in early spring. Early in Spring, between March and April, top-of-the-mountain conditions can stay cold and wintery. The equivalent of a powder day in spring is when the wind comes in from the southwest and blows powdery, sugary snow deposits over the top of the mountain, the Face of Facelift Express (formerly Chair 3) and High Five Express (formally Chair 5). This sugary snow is soft underfoot and is the closest thing to powder skiing in that later half of the season. But unlike a powder day, runs don't get tracked out because the wind constantly deposits new snow. Locals call these conditions "free refills," and can last for days.
Invest in rub-on wax in different temps. Like air temperature, snow temps can vary throughout the day, and you can expect to encounter rapidly changing snow conditions, especially later in the spring. The proper wax can make all the difference in your gear's performance. The lightweight nature of rub-on wax makes it super versatile. Unlike hot wax, it gets skied off pretty quickly, which is good when applying a different temperature wax within a few hours. By preparing for the shift from a frosty morning to a sun-drenched afternoon, you can ensure your gear glides smoothly throughout the day.
Consider staying on Groomed Runs. Mammoth Mountain's nightly snowcat team diligently grooms run each night. You can see their lights traveling up and down the Mountain, resurfacing each run with special equipment that tills and redistributes the surface snow. This process prolongs the ski season by preserving the snowpack, and the long grooves of "corduroy" the snowcats leave behind create perfect conditions for long, fast carved turns. We're looking at you, Stump Alley!
Layer, Layer. Layer. Winter or spring, savvy skiers and snowboarders layer their clothing. While it may seem unnecessary in spring, the top of the Mountain can stay cold, even in May or June, while at the Mill, the weather can feel downright beachy. You can easily adjust your clothing to match the conditions by layering it.
The early bird gets the "turn" in late spring. As spring transitions to summer in May and June, conditions become unskiable in the afternoon, and Mammoth Mountain behind opening at 7:30 am and closing at 2 pm. If you're visiting late in spring for the novelty of skiing on Memorial Day Weekend or even the Fourth of July, you'll find the best conditions first thing in the morning. Getting the first chair at 7:30 has the added benefit of allowing you to finish by 10 am, grab a late breakfast, and embark on another new adventure.
Sun-Kissed Slopes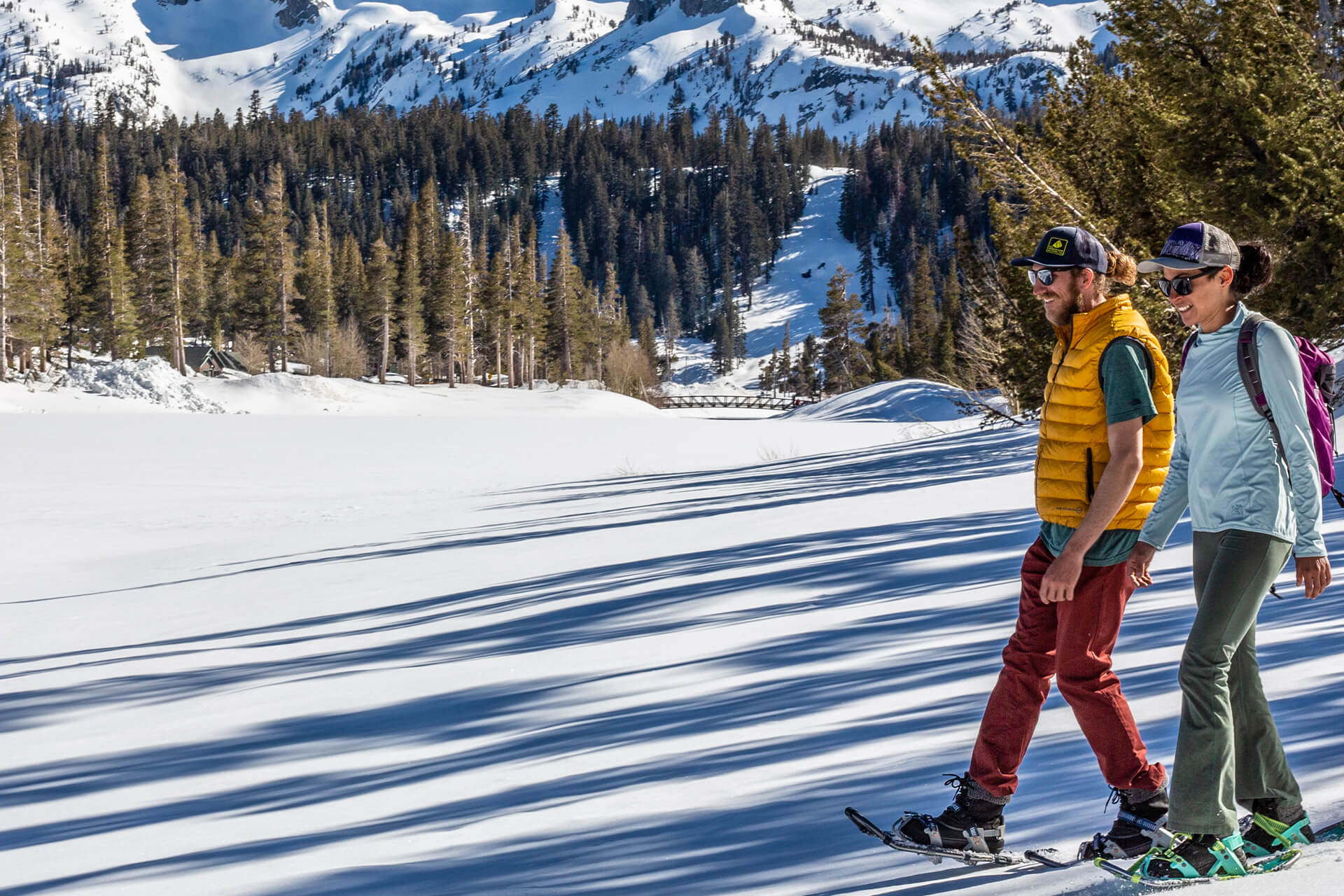 With bluebird days and buttery corn snow, there's no need to say goodbye to skiing when warmer days arrive. Even as the snow recedes in town, many feet of snowpack often remain on Mammoth Mountain. In fact, the ski resort typically stays open through the end of May, and it's not uncommon for skiers to enjoy a few runs in June on Father's Day or even in the morning before the Fourth of July parade!
Adventure Right Outside Your Door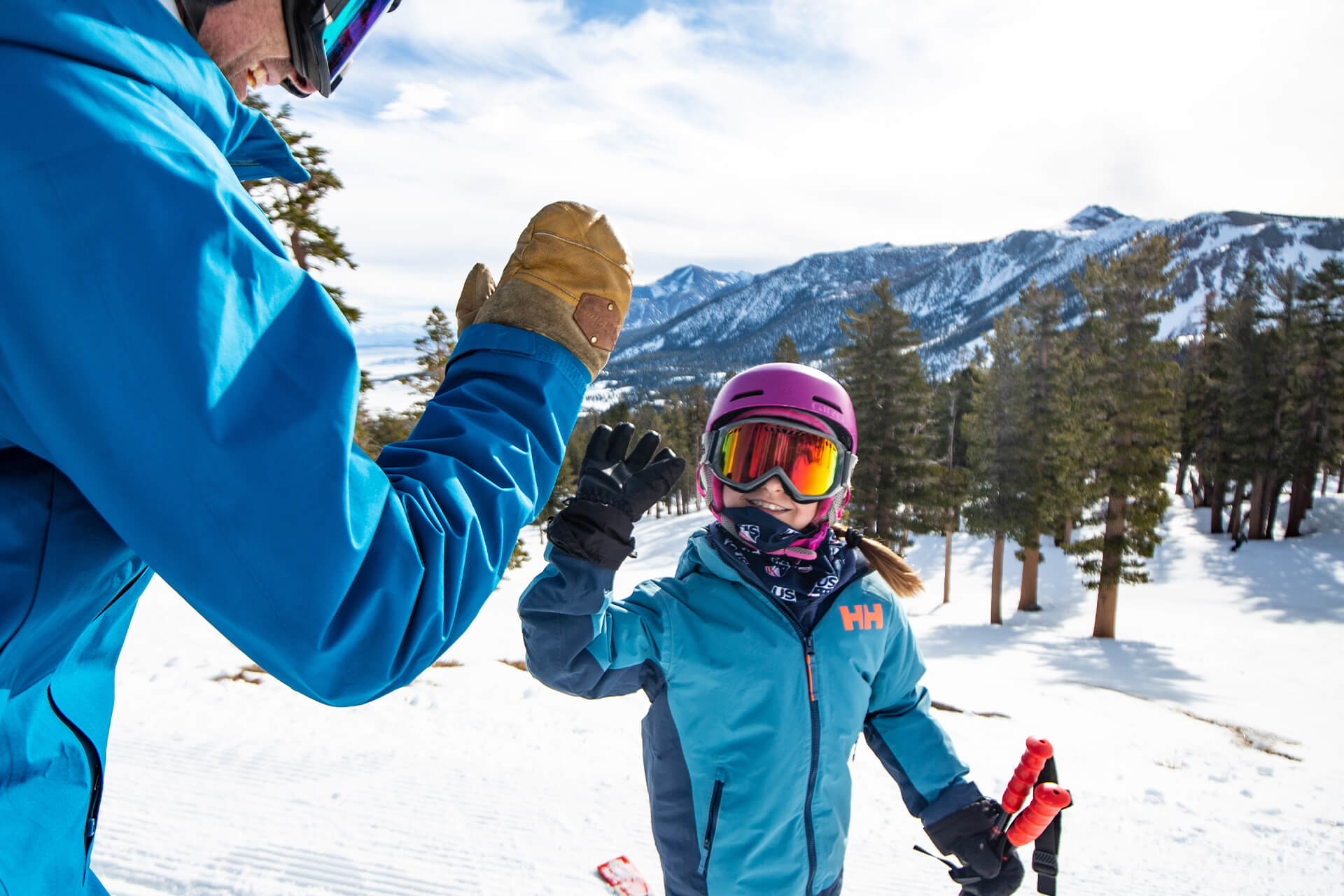 We invite you to combine the magic of fair-weather skiing with the beauty of nature right outside your door by making Sierra Meadow Ranch your home away from home. After a morning of skiing adventures on Mammoth Mountain, enjoy an afternoon full of easy hikes, wildflower viewing, and breathtaking 360-degree views of the mountains. Fully stocked kitchens, private, stand-alone units, and numerous restaurants within easy walking distance are just some of the things guests love about staying at Sierra Meadows Ranch. Check availability and book your next trip at Sierra Meadows Ranch.